Connecticut College News
Back to Current News
Now on YouTube: Campus is scene of 'curious invasion'
06/6/2011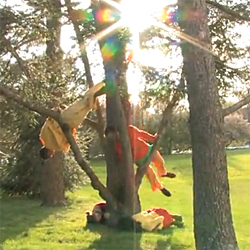 If you happened to be on campus May 5, you might have noticed something quite "curious." Dressed from head to toe in brightly colored outfits, people across campus were seen swaying from trees, flipping onto the ground and running across the greens. It was all part of a large, outdoor dance performance put on by the Pearson Widrig Dance Company and Connecticut College students and faculty. The piece, "A Curious Invasion," is a site-specific performance using the College's landscape and buildings as interactive elements for dance.
The company has previously performed in New York City's Central Park and was invited to campus by dance faculty through the Dayton Residency Grant. You can see video highlights of the performance on the College's YouTube channel. "We thought this site-specific work would re-familiarize our community with the familiar," said Shani Collins Achille, assistant professor of dance. "We sent them a video of a few places on campus, and the company directors said that choosing a space isn't about having an open block of land, but about using nature to inspire the dance."
Students and members of the dance company worked together to rehearse at specific locations on campus for several hours a day leading up to the day of the performance. The performance areas included the pillars outside Shain Library, residence hall rooms and even some of the trees on campus. "When I walk around campus now, I look at spaces in a different way, sometimes seeing remnants of 'A Curious Invasion,'" says Achille. "This is exactly what PWDC did: invade our space colorfully and beautifully, accentuating what we see everyday."
For media inquiries, please contact:
Deborah MacDonnell (860) 439-2504, dmacdonn@conncoll.edu
You might also like...