Connecticut College News
Back to Current News
onStage at Connecticut College presents 'Acoustic Africa' Feb. 26
02/7/2011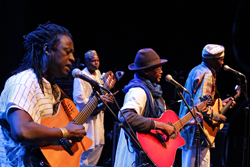 onStage at Connecticut College will celebrate the richness of the African guitar tradition with "Acoustic Africa" Saturday, Feb. 26, at 8 p.m. in Palmer Auditorium. Acoustic Africa features guitarist Habib Koite, a Malian superstar whose exciting concerts have endeared him to audiences worldwide; Oliver Mtukudzi, a best-selling artist in his home country of Zimbabwe; and Afel Bocoum, a guitarist, singer and composer from Mali whose songs evoke the evolution of traditional Malian society. The three artists, backed by a traditional African band, unite in song in a collaborative performance that honors their African heritage and pushes contemporary musical boundaries. "These are three of the most talented musicians in all of Africa," Robert Richter, director of arts programming at Connecticut College, said. "We are very excited to have them share their exhilarating music with us, especially during a month dedicated to honoring black history." Tickets are $28, 24, 20 for general admission; $25, 21.50, 18 for seniors and $14, 12, 10 for students. For more information or to purchase tickets, visit http://onstage.conncoll.edu or call (860) 439-2787 (ARTS). OnStage at Connecticut College is presented with support from The National Endowment for the Arts, New England Foundation for the Arts, Connecticut Commission on Culture and Tourism and The Day Publishing Company.
For media inquiries, please contact:
Deborah MacDonnell (860) 439-2504, dmacdonn@conncoll.edu
You might also like...