Connecticut College News
Back to Current News
Panel to discuss effects of Japan's earthquake
04/27/2011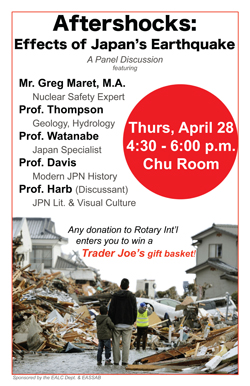 The Department of East Asian Languages and Cultures (EALC) and East Asian Student Advisory Board will host a panel discussion on April 28 entitled "Aftershocks: Effects of Japan's Earthquake." The panel, featuring four Connecticut College professors and an expert in nuclear safety, will discuss the earthquake and subsequent tsunami and nuclear reactor issues in a historical and cultural context. Professor Takeshi Watanabe, visiting assistant professor of East Asian languages and cultures, will lend a Japanese perspective to the events most in U.S. have seen only through the eyes of the American media.
Douglas Thompson, professor of geology and Karla Heurich Harrison '28 Director of the Goodwin-Niering Center for the Environment, will address questions related to the earthquake and concerns about water issues. Ann Marie Davis, assistant professor of history, will explain the impact of earthquakes on the people and the government and how the Japanese have used them to further political agendas. Greg Maret, a consultant with Sequoia Consulting Group who acts as an expert witness in spent fuel regulation cases, will address questions about nuclear safety and international regulations. And Sayumi Harb, assistant professor of East Asian languages and cultures, will moderate the session and the Q&A to follow.
There is no charge to attend the event, but donations will be accepted for Rotary International and will go to efforts by Andras Molnar '09 to raise funds for schools and students in Yamamoto, where he works as an English teacher. Donors will also be entered into a drawing for a gift basket. The panel discussion is Thursday, April 28, at 4:30 p.m. in the Charles Chu Asian Art Reading Room in Shain Library.
For media inquiries, please contact:
Amy Martin (860) 439-2526, amy.martin@conncoll.edu
You might also like...