Connecticut College News
Back to Current News
Paul Bloom delivers 'Just Babies: The Origins of Human Kindness'
03/4/2011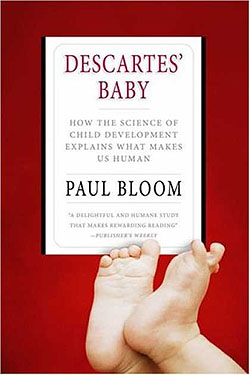 The Connecticut College Psychology Department is pleased to bring Paul Bloom to campus for a presentation entitled "Just Babies: The Origins of Human Kindness." Bloom is a professor of psychology at Yale University whose research has led him from exploring how children learn the meanings of words to his current examination of how children and adults understand the physical and social worlds, with special focus on moral reasoning, religion, fiction and art. Bloom's presentation will touch on some of the themes in his book, "Descartes' Baby: How the Science of Child Development Explains What Makes Us Human." He is the author or editor of six books, including his latest, "How Pleasure Works: The New Science of Why We Like What We Like." He is also the co-editor of Behavioral and Brain Sciences, an internationally renowned journal, and has contributed pieces to The New York Times, the Guardian and The Atlantic. Bloom will speak at 4:30 p.m. on Monday, March 7, in Silfen Auditorium inside Bill Hall. The presentation is part of the Psychology Department Colloquium Series.
For media inquiries, please contact:
Amy Martin (860) 439-2526, amy.martin@conncoll.edu
You might also like...