Connecticut College News
Back to Current News
Professor awarded $419k for ovarian cancer research
03/15/2011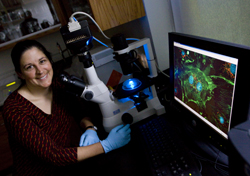 Biology professor Martha J. Grossel
The National Cancer Institute has awarded biology professor Martha J. Grossel a $419,375 grant to support her ovarian cancer research.
Grossel's research involves understanding what causes the unchecked cellular division that is associated with cancer. This grant will allow Grossel and her team, including undergraduate students and Philip Hinds, associate director of the Molecular Oncology Research Institute at Tufts University School of Medicine, to investigate the interaction of the cell cycle regulatory protein "Cyclin Dependent Kinase 6" (cdk6) and the developmentally important transcription factor "Eyes absent homolog 2" (Eya2).
"An understanding of how these proteins influence differentiation and cell proliferation is crucial to the biology of cancer stem cells and development and may advance our understanding of ovarian cancer," Grossel said. Grossel's research has been supported by a number of research grants, including a $465,000 five-year National Science Foundation CAREER grant, awarded to new faculty members who are most likely to become academic leaders of the 21st century, and a three-year National Institutes of Health Academic Research Enhancement Award to study the mechanism of differentiation functions of cdk6.
Grossel stresses the importance of undergraduate student research in her classes and encourages students to learn more about molecular biology by participating in one of the ongoing research projects in her laboratory. She has co-authored papers and journal articles with students and was awarded a minority supplement to her NIH grant to support a student's research and travel to present at a scientific conference.
The National Cancer Institute (NCI) is part of the National Institutes of Health, one of 11 agencies that compose the Department of Health and Human Services. The NCI, established under the National Cancer Institute Act of 1937, is the Federal Government's principal agency for cancer research and training. The National Cancer Act of 1971 broadened the scope and responsibilities of the NCI and created the National Cancer Program. Over the years, legislative amendments have maintained the NCI authorities and responsibilities and added new information dissemination mandates as well as a requirement to assess the incorporation of state-of-the-art cancer treatments into clinical practice. This grant is 100 percent federally funded.
For media inquiries, please contact:
Amy Martin (860) 439-2526, amy.martin@conncoll.edu
You might also like...