Connecticut College News
Back to Current News
Professor awarded NEH summer stipend to continue study of labor migration in China
07/8/2011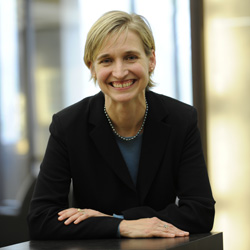 Amy Dooling, associate professor of Chinese, has been awarded an NEH summer stipend to continue her research.
Amy Dooling, associate professor of Chinese, has been awarded a $6,000 summer stipend from the National Endowment for the Humanities. Dooling, an expert on modern and contemporary Chinese fiction, is researching the relationship between the migration of laborers and subsequent cultural changes in post-Mao China. She is using the NEH grant to continue her research by analyzing data from previous trips overseas. Dooling is exploring the struggles of migrants and the creative expression that has grown from their experiences. She is reviewing the literary and artistic work of laborers who have relocated to urban areas. Her research includes poetry and fiction published in self-funded magazines and online forums, as well as public performances of drama and music. NEH summer stipends are highly competitive. Dooling, who has served as chair of the Department of East Asian Languages and Cultures, is the author of several published works. In addition to a book-length manuscript, her recent publications include: "Writing Women in Modern China: The Revolutionary Years, 1936-1976" (Columbia University Press, 2005) and "Women's Literary Feminism in Twentieth-Century China" (Palgrave Macmillan, 2005). This project is 100 percent federally funded. - By Melissa Bennett
For media inquiries, please contact:
Amy Martin (860) 439-2526, amy.martin@conncoll.edu
You might also like...