Connecticut College News
Back to Current News
Professor Derek Turner pens new book about the philosophy of paleontology
06/23/2011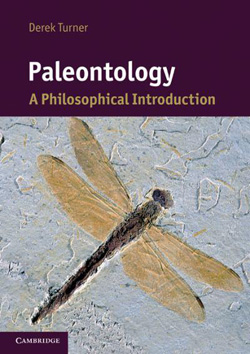 Like many children, philosophy professor Derek Turner loved dinosaurs. As he grew, an interest that began with toys and imaginary worlds grew into a series of philosophical questions. How much could we really know about the real worlds of these fascinating creatures? And what can we learn from a world filled with giants - and no humans?
In his latest book, "Paleontology: A Philosophical Introduction," Turner explores the many philosophical questions inherent in the larger field of paleontology, or the study of fossils (dinosaur and otherwise). These questions are broad, Turner says, and have great impact and relevance not only to paleontology, but to other fields of study and to our general understanding of our world. For example, Turner discusses the importance of trends in paleontology, and the debate among scientists about what constitutes a trend.
"Paleontologists are in the business of trends - they find sets of fossils, indentify trends and try to explain how those trends came about," Turner said. "Sometimes there is this debate about whether a trend is 'real' or not - depending on how you interpret the evidence, an argument can be made either way. This becomes a philosophical issue - what do we really mean when we say that a trend is real? What are we really disagreeing about?
"This issue - are trends 'real' and what do we mean by that - is actually really broad," Turner added. "It can be applied to economics, climate science, politics, history, social science and many other fields."
Turner's book, available now as part of Cambridge University Press' new series, Introductions to Philosophy and Biology, is written as an introductory book for upper-level philosophy or biology students.
"I wrote it thinking, 'If I was going to use this in my Philosophy of Biology or Darwin class, how would I want it written?'" Turner said. The result is an interesting mix of science and philosophy that doesn't answer nearly as many questions as it asks. "I'm not making an argument so much as getting readers thinking about and excited about the field," Turner said.
The book is also an example for future philosophers - or scientists - about how to approach philosophy of science. Turner, a professor at Connecticut College since 2001 who specializes in the philosophy of science, the philosophy of biology, environmental philosophy and bioethics, says perhaps the most effective approach, which he uses in the book, is to start with the science and let the philosophy questions come naturally. "There are all these really difficult and challenging questions about evolution and scientific theory," Turner said. "I'd like readers to have a sense that paleontology isn't just about dinosaurs." He added, "It took me a long time to learn that." - By Amy Martin
For media inquiries, please contact:
Amy Martin (860) 439-2526, amy.martin@conncoll.edu
You might also like...