'Prophets of Funk' is festival-bound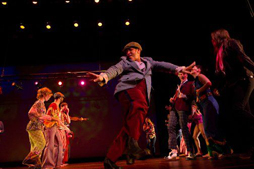 Connecticut College's dance company-in-residence, David Dorfman Dance, will present their latest work at several dance festivals in the northeast this month.
"Prophets of Funk" will be performed at the Bates Dance Festival in Lewiston, Maine, Lincoln Center Out of Doors in New York City and Jacob's Pillow Dance in Becket, Mass. The show celebrates the music of legendary funk band Sly and the Family Stone while also touching on the struggles and celebration of everyday people. The dance company has found common purpose with the band in the prophetic possibilities of music and dance, inviting everyday people to find ardor in the muck and mess - the funk - of life. "Prophets of Funk" seeks to lift up the spirit of Sly, insisting that in the face of this funk, there are still hopes and aspirations that reside in all of us.
Connecticut College Professor of Dance David Dorfman, the artistic director of the dance company, is excited by the opportunities the festivals present. "I feel exceptionally lucky to be able to share our new, joyous work with so many people this summer. These three festivals - Bates, Lincoln Center Out of Doors, and Jacob's Pillow - are pioneers and stalwarts in bringing dance to the public with a remarkable graciousness and vision. I am giddy with excitement about the next three weeks to come. A huge thank you goes to Sly and the Family Stone for inspiring 'Prophets of Funk.'"
The performance schedule is as follows:
Bates Dance Festival, Friday, Aug. 5 and Saturday, Aug. 6 at 8 p.m.
Lincoln Center Out of Doors, accompanied by the musicians of The Family Stone, Thursday, Aug. 11 at 7 p.m.
Jacob's Pillow Dance Wednesday, Aug. 17 - Saturday, Aug. 20 at 8:15 p.m., Saturday, Aug. 20 and Sunday, Aug. 21 at 2:15 p.m.
---
August 30, 2011