Connecticut College News
Back to Current News
Pulitzer Prize-winning artist and illustrator Art Spiegelman to speak on campus
10/31/2011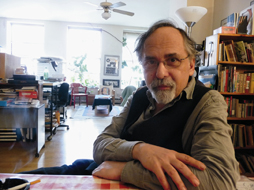 Photo by Nadja Spiegelman
"What the %@&! Happened to Comics?" Art Spiegelman knows, and you will too after his talk at Connecticut College on Tuesday, Nov. 8, at 7:30 p.m. in Palmer Auditorium. The lecture, which is free and open to the public, is part of the College's Daniel Klagsbrun Symposium on Creative Arts and Moral Vision.
Spiegelman is perhaps best known for "Maus," his graphic novel about the Holocaust, in which Jews were portrayed as mice and Nazis as cats. In 1992, he won a Pulitzer Prize for the book in the category Special Awards and Citations - Letters. His visit to the College coincides with the publication of "MetaMaus: A Look Inside a Modern Classic," which uses illustrations, photos, video and more to tell the story behind "Maus."
Spiegelman has written a number of other books, was a writer and illustrator for The New Yorker, and, during his 20 years with Topps Bubble Gum Co., invented Garbage Candy, the Wacky Packages card series, Garbage Pail Kids and other popular novelty items.
In his lecture - "What the %@&*! Happened to Comics?" - Spiegelman will examine the evolution of comics and explain the importance of the medium, which he believes is on the rise. He has said that "comics echo the way the brain works. People think in iconographic images, not in holograms, and people think in bursts of language, not in paragraphs."
Blanche McCrary Boyd, the Roman and Tatiana Weller Professor of English and Writer-in-Residence at the College, said Spiegelmen has had a tremendous impact on the genre.
"His originality raised the comic book to an art form that we now call the graphic novel," she said. "He understood that a panel of pictures with captions and text has enormous power. The fact that I can say a graphic novel is the best thing I've ever read about the Holocaust? That says something."
Because he was at the forefront of the movement elevating comic books to literature, "He had to believe in himself, so it goes beyond just the value of his work to the conviction he had to do it," said Boyd. "This is what I call a cross-disciplinary work. He has to be a brilliant writer and a brilliant illustrator, and we're lucky that he's a brilliant speaker as well."
Boyd designs and runs the Klagsbrun Symposium in conjunction with the Klagsbrun family, who established the event in 1989 to create a positive, living memorial to Daniel Klagsbrun '86. Through the generosity and commitment of Daniel's parents, Emilie and Herbert Klagsbrun, the symposium has brought to the College over the years an amazing array of authors, including Saul Bellow, Adrienne Rich, Elie Wiesel, Sandra Cisneros, Joseph Brodsky, Jhumpa Lahiri, Michael Cunningham, Dorothy Allison, Tobias Wolff, and a host of others.
For media inquiries, please contact:
Amy Martin (860) 439-2526, amy.martin@conncoll.edu
You might also like...