Connecticut College News
Back to Current News
Quest for climate justice takes Kristiane Huber '11 all the way to Tuvalu
03/3/2011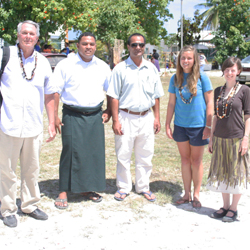 Kristiane Huber '11, second from right, in Tuvalu with her team from Tribal Link.
Kristiane Huber '11 is passionate about climate justice. Through her schoolwork and study abroad and internship experiences, she has learned all about the impact of climate change on indigenous groups. Now, she has witnessed it first hand.
Over winter break, Huber, an environmental studies and government major, traveled to the tiny island nation of Tuvalu. The Polynesian island with a population of about 10,000 sits just 4.5 meters above sea level at its highest elevation and is in significant danger of being submerged by rising sea levels.
"The Tuvaluans have a wonderful culture that is in danger of being lost forever," Huber said. "The irony is that they are already living a very sustainable lifestyle, yet climate change is affecting them the most." Huber traveled to Tuvalu with two architects on behalf of the
Tribal Link Foundation, a non-profit indigenous rights advocacy group. Huber had completed a Connecticut College-funded internship with the foundation over the summer, and was asked to document the trip to assist the group in raising funds for a proposed environmental education center. "We conducted site surveys and interviews with residents and community," Huber said. "The idea is to design the center to be resilient to climate change and to meet the needs of the Tuvaluans."
The proposal, Huber said, is to build the center in an area that already floods on a yearly basis. It would be built off the ground, powered with solar energy and include a system to collect rain water. The project is one of Tribal Link's many efforts to help indigenous peoples preserve their cultures and languages and protect their rights to their land and its resources.
Pamela Kraft, the executive director of Tribal Link Foundation, said Huber was well suited for an internship with the organization and a perfect fit for the project. "Kristiane has such a deep understanding and respect of the environment," Kraft said. "I could tell she had made a lifetime commitment to the environment, sustainability and justice for all peoples."
Huber's interest in climate justice began in Professor Jane Dawson's classroom. Dawson, an expert in international environmental politics, shows a film about the plight of Tuvalu in her "Environmental Activism" class. "The people there are most affected by climate change, yet they are not responsible, and Kristiane really latched on to that," Dawson said. Dawson also advised Huber on her senior integrative project for the College's Goodwin-Niering Center for the Environment certificate program. Huber wrote a 55-page paper exploring the legal and social implications of relocating indigenous populations because of climate change. The project, which Dawson said was one of the best she's ever seen, was based in part on Huber's independent study with Friends of the Earth-Australia in Brisbane, which she completed while studying abroad.
"Kristiane has become our resident expert on threatened indigenous populations," Dawson said. "She studied case after case of indigenous relocation and did a careful analysis of what works and what doesn't."
Huber said she had a very academic understanding of the issue, and the trip to Tuvalu helped her develop a more personal understanding. "I want to pursue a career in climate adaptation and I'm very interested in advocacy work," Huber said. "To do that effectively, you need a very holistic understanding of the problem." "I'll have to put my liberal arts education to work," she added.
For media inquiries, please contact:
Amy Martin (860) 439-2526, amy.martin@conncoll.edu
You might also like...