Connecticut College News
Back to Current News
Recalling the events of 9/11
09/8/2011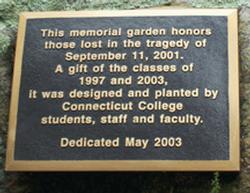 The 9/11 Garden located off Tempel Green.
Jennifer Claire Scott '94 says she used to be fearless, even naïve. She remains fearless today, she says, but for a different reason — she has seen evil and devastation up close and survived.

"Your perspective on life certainly changes when you know you've already had your very worst day," she said recently.

Scott is one of many in the College community who felt the shock waves of the Sept. 11, 2001, attacks.

She had been caught in traffic in New York City's Battery Park Tunnel when the first World Trade Center tower was hit. The second tower, where she worked, was in the crosshairs. Five of her co-workers on the 107th floor would be killed, including one with whom she shared an office.

Nearly a decade later, Scott was overcome by emotion on May 2, 2011 when she learned that Osama bin Laden had been killed. "It brought back so much from that day. And it made me realize how much of the last 10 years I've been on edge," she said.

"After I got over the initial overwhelming emotion, I realized I was truly feeling relief. I could breathe again. And although I'm not a religious person, I felt like those 3,000 souls could now rest in peace."

Others also escaped injury on that fall day in 2001.

Barbara Lovelace '01 had worked until midnight Sept. 10 and decided to report for work at the Twin Towers a little late the next day.

Jane Arabian '74 had been watching a CNN broadcast of the events at the Pentagon, where she worked, when a third plane crashed into that building. "It felt like a small earthquake," she later said.

Alice Maggin '91, a producer for ABC's "World News Tonight," was dispatched to the World Trade Center with other coworkers. They worked their way through a packed, smoke-filled subway, not knowing that the towers above them had crashed.

But some were not as lucky. James Greenleaf Jr. '91, known as someone with a very big heart — especially for the less fortunate — died in the inferno that day. The Waterford, Conn., native was a foreign currency trader at the World Trade Center.

Patricia Greenleaf, his mother, says she and her husband still grieve.

"The pain eases somewhat over time," she says, "but it never goes away." She adds, however, that she doesn't allow herself to become consumed by the tragedy. "The way I look at it," she says, "I had a wonderful son for 30 years. … We have another son and two grandchildren and, even though the pain will always be there, we just have to get on with our lives."
For media inquiries, please contact:
Amy Martin (860) 439-2526, amy.martin@conncoll.edu
You might also like...