Connecticut College News
Back to Current News
Sailing coach named NEISA Coach of the Year
07/6/2011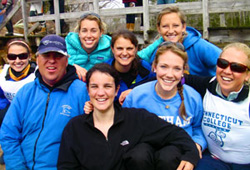 Sailing coach Jeff Bresnahan, second from left, with members of the 2010-2011 Camels sailing team.
Following one of the best seasons in Camel sailing history, head coed and women's coach Jeff Bresnahan has been honored as the New England Intercollegiate Sailing Associations' (NEISA) Coach of the Year. Bresnahan led the women's team to an exciting second place finish at the Sperry/Top Sider ICSA Women's National Championship in Cascade Locks, Ore. The men's team also competed in the championship, making it the first year for both teams to qualify since 1993.
Fran Shields, the Katherine Wenk Christoffers '45 Director of Athletics and Chair of the Physical Education Department at Connecticut College, saluted Bresnahan for his accomplishments at the College. "Jeff puts his heart and soul into this program," Shields said. "This is a great honor for Jeff, our student-athletes and Connecticut College." Peter Miller, a rising senior from Paget, Bermuda, said Bresnahan is deserving of the honor. "The award is a testament to the fantastic season that the women's and coed teams had," Miller said. "Jeff's leadership, player management and coaching were excellent. We're excited that the other teams in NEISA have recognized his herculean efforts."
Bresnahan told the Boston Globe the credit should go to his sailors. "I'm deeply honored to have been chosen," Bresnahan told the Globe, "but the credit really belongs to the members of the team. They worked extremely hard and got us to the nationals. My job was easy. They did the sailing and it's through their efforts that I got this award." Maggie Shea, a skipper from Wilmette, Ill., who graduated in May, said Bresnahan is a particularly effective coach because he recognizes and balances the needs of student-athletes. "Over the years, it has become evident to me how much Jeff cares about his sailors in all aspects of our lives," Shea said. "He understands that we came to Connecticut College to gain a well-rounded liberal arts education.
Jeff helps his sailors develop life skills that will help us as adults in the real world. He is acutely aware that we are student-athletes." The Camel sailing program has received international acclaim in recent years with several graduates competing in the Olympic games. Meg Gaillard '95 and Carol Cronin '86 competed at the 2004 Summer Olympic Games in Athens, Greece, and Amanda Clark '05 sailed at the 2008 games in Beijing, China.
For media inquiries, please contact:
Amy Martin (860) 439-2526, amy.martin@conncoll.edu
You might also like...