Connecticut College News
Back to Current News
Scholar to speak on life in Libya before and after revolution
11/9/2011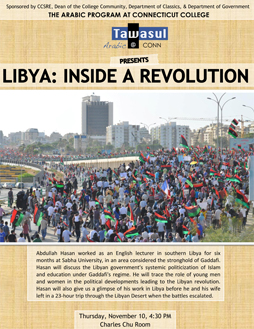 An eyewitness to the uprising in Libya will speak on campus Thursday, Nov. 10, at 4:30 p.m. in the Charles Chu Asian Art Reading Room in Shain Library. The talk is free and open to the public.
Before fleeing with his wife in a 23-hour trip through the Libyan Desert, Abdullah Hasan witnessed the violent protests that eventually toppled longtime dictator Moammar Gadhafi. Hasan, a doctoral student at Ball State University, had been lecturing at Libya's Sabha University and conducting research on women's issues, contemporary Islamic affairs and Orient-Occident relations. In his talk, he'll share his perspective the Libyan government's systemic politicization of Islam and education under Gaddafi's regime and trace the role of young men and women in the political developments leading to the Libyan revolution.
Waed Athamneh, visiting lecturer of Arabic language and literature in the Department of Classics, helped organize the lecture with Muhammad Masud, who will teach "Politics and Ideologies in Literature About the Middle East" this spring.
"What is happening in the Arab world today is unprecedented on many levels," Athamneh said. "Students at Connecticut College have always shown interest and great caliber in analyzing and understanding their role as global citizens, so these talks are aimed at bringing the most recent and relative discussions to campus with speakers who know the area well and understand the nature of the Arab Spring."
The event is sponsored by Arabic studies, the Center for the Comparative Study of Race and Ethnicity, the Dean of the College Community and the departments of classics and government.
For media inquiries, please contact:
Amy Martin (860) 439-2526, amy.martin@conncoll.edu
You might also like...