Connecticut College News
Back to Current News
Senior Robin Edwards conducts experiments on synthetic jet fuel
12/9/2011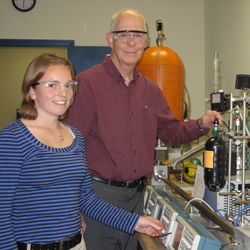 Senior Robin Edwards with professor David Lewis.
Senior Robin Edwards - a premed student majoring in physics with minors in chemistry and math - has always planned to go to medical school and work in a hospital, so it surprised her just how much she enjoys conducting high-pressure shock experiments on a synthetic jet fuel.
Edwards began interning over the summer at Aerodyne Research Inc., a Massachusetts research and consulting firm that specializes in environmental issues and national defense. She landed the position with the help of professor David Lewis, who serves as an affiliated researcher for the company, and quickly became an important part of the Aerodyne team.
"Robin became so deeply involved in an ongoing Aerodyne project - and demonstrated such skill and motivation - that Aerodyne offered her a staff scientist position at the end of August," said Lewis, the Margaret W. Kelly Professor of Chemistry at Connecticut College.
Edwards now works part time at the company while she completes her degree; in the spring, she will work for Aerodyne full time. "The experience has been terrific," Edwards said. "I am often able to directly apply knowledge I acquired at Connecticut College to what I am doing at Aerodyne." In fact, the experience has inspired her to pursue research-based medicine, and she has applied to medical school and Ph.D. programs in medical physics for the fall of 2012.
Lewis, who was recently honored with the American Chemical Society's Award for Research at an Undergraduate Institution, has helped many students like Edwards get research experience with internships at Aerodyne and in his lab at Connecticut College. "Interning at Aerodyne provides opportunities for students to perform research in an industrial setting, complementing their experiences in the College's academic laboratories," Lewis said.
Several of Lewis' former Aerodyne interns are still affiliated with the company, including Jon Franklin '09, who works for the company full time, and Eben Cross '03, a postdoctoral research fellow at MIT who is conducting research there.
Edwards says her transformative experience at Aerodyne would not have been possible without Lewis, whom she calls a "great mentor." "He has really helped me in the transition from the academic world to the professional one," she said. Edwards encourages current and future students to build similar relationships with faculty.
"Get to know your professors and don't hesitate to ask them for help. That's one of the advantages of a small school." - By Laura Marenghi '12
For media inquiries, please contact:
Deborah MacDonnell (860) 439-2504, dmacdonn@conncoll.edu
You might also like...