Connecticut College News
Back to Current News
Senior's thesis considers possibility of wind power on campus
05/16/2011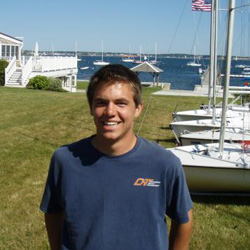 Michael Marshall '11, co-captain of the sailing team, completed a senior thesis analyzing the feasibility of wind power on campus.
Does the Connecticut College campus have enough wind to justify a wind turbine? A 2006 study by Global Energy Concepts (GEC) concluded the answer was no, but senior Michael Marshall - a co-captain of the sailing team who knows a thing or two about wind - thought the answer might be yes.
Armed with the 2006 study and more than a year's worth of data from a 20-foot wind-monitoring tower erected on campus in the spring of 2009, Marshall, a self-designed terrestrial and planetary geophysics major, set to work on a senior thesis analyzing the wind resources and the feasibility of wind power on campus. The 2006 study was initiated by the College's Environmental Model Committee and funded by a special student fee designated for renewable energy. GEC used wind data from the Groton-New London airport in conjunction with a modeled wind map of Connecticut and considered the required setbacks for various-sized turbines to determine that the campus could only support a 35-meter turbine, and that it would only produce 1.5 percent of the 15,000 megawatt hours of energy the College uses each year. But Marshall, and Geology Professor Doug Thompson, Marshall's thesis advisor, thought a more site-specific analysis might yield a different result.
"The wind map used by GEC didn't take into account the small changes in geography that can drastically affect wind," Marshall said. Marshall analyzed the data from the wind monitoring tower, erected in 2009 by students completing an independent study, and compared it to historic wind records from another local airport. Using WindPro, a sophisticated wind analysis software, and energy calculations done by hand, Marshall determined Connecticut College's potential for wind energy may be much greater than what was determined by GEC. In fact, Marshall estimates that a very large wind turbine placed in the arboretum might even be able to generate 100 percent of the College's energy needs. "That surprised us," Marshall said. "When we first plugged in the numbers, Doug [Thompson] and I just looked at each other."
Thompson said the arboretum hadn't been considered as a location before. "I'm not sure why," he said. "It's the farthest away from any possible neighbor and the highest point on campus." An arboretum turbine, which would need to be quite large to clear the trees, is only hypothetical. Marshall's final thesis - more than 100 pages in length - estimates the noise impact and shadow effect a large turbine might have on the surrounding area, but his research doesn't take into account cost or zoning regulations. The location and low height of the wind monitoring tower also make it difficult to make accurate predictions of exactly how much energy could be produced by a larger turbine in another location. "More research is definitely needed," Marshall said. "There is too much uncertainty to proceed without more data, but my research shows the possibility is there."
The College is currently on a waiting list to rent a sodar wind monitoring machine, which collects wind data from various heights using sound-wave detection equipment on the ground. The Student Government Association voted to use the student renewable energy fee to cover the costs, and the College is waiting for the machine to become available.
"This is really the next step in the process," Thompson said. "This machine will give us more accurate site- and height-specific wind data." And if the College does decide to go forward with wind power in the future, it just might be Marshall who answers the call. "I've decided I might want to go into the wind energy business," Marshall said. "I really got hooked on it." - By Amy Martin
For media inquiries, please contact:
Deborah MacDonnell (860) 439-2504, dmacdonn@conncoll.edu
You might also like...