Connecticut College News
Back to Current News
Speaker to discuss illicit trade in American history
04/7/2011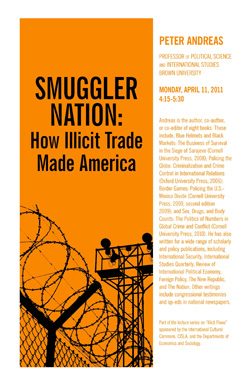 Peter Andreas, professor of political science and international studies at Brown University, will deliver a talk entitled "Smuggler Nation: How Illicit Trade Made America" Monday, April 11, at 4:15 p.m. in Blaustein Humanities Center Room 210. The talk derives from a book Andreas is writing, in which he explores how illicit commerce shaped the history and growth of the United States and how it continues to impact our engagement with the world. An expert on borders and smuggling, transnational crime and the political economy of conflict and intervention, he has done fieldwork in Latin America, Western Europe and the Balkans.
His current focus on America encompasses examinations of smuggling and other forms of illicit trade in Colonial times to cyber smuggling in the 21st century. Andreas was an Academy Scholar at Harvard University, a research fellow at the Brookings Institution and an SSRC-MacArthur Foundation Fellow. He earned a master's degree and doctorate in government from Cornell University and a bachelor's in political science from Swarthmore College. His talk, which is free and open to the public, is part of a lecture series on "Illicit Flows."
The series is co-sponsored by the College's Toor Cummings Center for International Studies and the Liberal Arts (CISLA), the Department of Economics and International Commons.
For media inquiries, please contact:
Amy Martin (860) 439-2526, amy.martin@conncoll.edu
You might also like...