Connecticut College News
Back to Current News
Students to lobby for the environment at Power Shift 2011
04/14/2011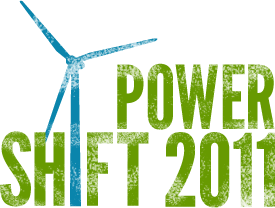 This weekend, more than 60 Connecticut College students will travel to Washington, D.C., for Power Shift, a weekend-long biennial youth conference that promotes advocacy for clean energy. "Power Shift is an incredibly motivating and inspirational event that draws together thousands of people from all around the nation who are interested in the environmental movement," said Zoe Diaz-Martin '12, who helped organize the trip.
"It offers a lot of opportunities to learn about organizing campuses and communities to mobilize for climate change, and opportunities for networking with other college environmental leaders, which can be very valuable." Diaz-Martin was one of dozens of Connecticut College students who attended Power Shift 2009. The experience inspired a number of students to become environmental leaders on campus. "There were a lot of students who felt the desire to become part of the movement and to make a difference but had not yet found effective outlets to do so," said Elias Kauders '12, chair of environmental affairs for the Student Government Association.
"It is gratifying to note that many of the 2009 attendees have gone on to declare Environmental Studies majors, start or lead environmental clubs and work to organize this trip to Power Shift." This year, Kauders said, Connecticut College will be represented at the conference by students from all classes and many different majors. While some students are new to environmental activism, many are already involved through campus environmental clubs - the Renewable Energy Club, Forest Justice, Sprout and Oceana - or as House Environmental Representatives or scholars in the Goodwin-Niering Center for the Environment. Highlights of Power Shift 2011 include keynote addresses by former Vice President Al Gore and environmental journalist and activist Bill McKibben, who spoke at Connecticut College in November, and a lobby and direction action day.
"The lobby day involves a protest on the National Mall to urge legislators to write bills for clean energy in the United States," Diaz-Martin said. "The protest is followed by a lobbying session where concerned citizens are able to meet with their state representatives to urge them to write climate legislation." To help make the trip to D.C. more environmentally friendly, students were able to fundraise to rent a bus. "The bus is a huge step forward and should reduce our carbon emissions significantly relative to the amount of cars that would otherwise be needed to make the 800-mile round trip," Kaunders said. - By Laura Marenghi '12
For media inquiries, please contact:
Amy Martin (860) 439-2526, amy.martin@conncoll.edu
You might also like...