Connecticut College News
Back to Current News
The Day publishes special Connecticut College Centennial issue
05/20/2011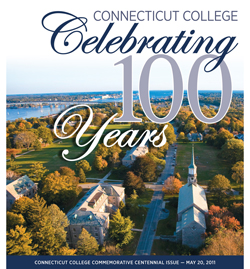 The cover of The Day's special 16-page Connecticut College Centennial commemorative issue.
In honor of Connecticut College's 100th anniversary, New London's newspaper, The Day, has published a 16-page special commemorative issue. The commemorative issue was included in all copies of The Day paper Friday, and it can be viewed online here. The special section includes stories about the College's founding, the value of the liberal arts and the College's impact on the community. Other stories address the College's environmental leadership and history as a cultural hub for the arts.
In one article, "The World at Your Feet," journalist Liz Mugavero writes that Connecticut College's liberal arts education, with its emphasis on small classes and accessible faculty, prepares students for life. "With emphasis on skills like critical thinking, communication and moral reasoning, the college is focused on educating young people to be ready for any situation that comes their way after graduation," she writes. Connecticut College is in the midst of a year-long Centennial celebration marking the 100th anniversary of its founding in 1911.
The theme, "Great Beginnings," evokes the historical and celebratory elements of the Centennial as well as the College's educational mission. Major events and initiatives are taking place throughout the year. Sunday, the College will graduate its Centennial class. Alumna Cynthia Enloe, research professor of international development, community and environment at Clark University, will give the keynote address. Centennial Reunion, featuring a keynote talk by NPR correspondent Nina Totenberg, fireworks over Tempel Green and a performance by the popular Guns N' Roses tribute band, Mr. Brownstone, is June 3-5.
For media inquiries, please contact:
Amy Martin (860) 439-2526, amy.martin@conncoll.edu
You might also like...