Connecticut College News
Back to Current News
Three honored with Connecticut College's Martin Luther King Jr. Service Awards
01/31/2011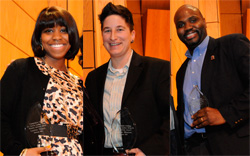 2011 Martin Luther King Jr. Service Award winners, from left: Loretta Vereen '12, Professor Jennifer Manion and Professor David Canton
Connecticut College has honored three members of its community with Dr. Martin Luther King Jr. Service Awards, given each year to those who exemplify and uphold the legacy of Dr. King's work. The 2011 recipients are junior Loretta Vereen, Director of the LGBTQ Center and Assistant Professor of History Jen Manion, and Director of the Center for the Comparative Study of Race and Ethnicity and Associate Professor of History David Canton.
Vereen was nominated for creating opportunities on campus for discussions about race, including in her work as a Diversity Peer Educator and in the two plays she wrote, produced and directed that deal with the subject. Vereen also works with young New London residents in after-school programs. "To receive this award means I have been effective in reaching people in my community through my actions as an individual activist," said Vereen, who praised King's use of peaceful tactics to bring about change in society. "I am elated that people appreciate the route I take in supporting causes on still arguably sensitive subjects of race, class and gender. And I am forever honored and will continue my service as a leader attempting to eliminate social injustices at all levels."
Manion's nomination cited her leadership in the College's drive to diversity and its efforts to build connections with the local community, as well as her founding of the College's LGBTQ Resource Center. She was also praised for her role in a teach-in about bullying conducted in the wake of several high-profile national incidents in 2010. "College is where I learned about race, racism, African-American history and anti-racist feminism," Manion explained. "Colleges and universities can be transformative spaces of consciousness-raising and political mobilization. As a leader and advocate in the LGBTQ community, I am committed to a politics of social justice that incorporates an analysis of structural racism, sexism, classism and homophobia. This award is a great honor and brings with it a sense of responsibility to do more to advance the principles of the great Dr. King."
Canton was nominated for his efforts to keep social justice at the forefront via his courses in African-American history and as director for the Center for the Comparative Study of Race and Ethnicity. He is also the director of the Mellon Mays Undergraduate Fellowship Program, which seeks to increase diversity among the faculty at institutions of higher education and facilitate access to graduate degrees for underrepresented students. Like Vereen and Manion, Canton also works closely with the community of New London, in particular with the Kente Cultural Center. Said Canton, "I am honored to receive the Martin Luther King Jr. Service Award. It is very special to me because Dr. King and I graduated from Morehouse College. When I think of Dr. King, I think of his commitment to transforming American society. I try to make my classroom a transformative experience for students. I want my classes to serve as a vehicle for students to understand diversity and to continue with Dr. King's mission of racial and economic justice."
The awards were presented at the annual Dr. Martin Luther King Jr. Commemoration Ceremony Friday, January 28. The ceremony also included remarks by Dean of Religious and Spiritual Life Claudia Highbaugh, a spoken word performance by Jannette Rivera '14, a dance performance by Oceane Hooks-Camilleri '12, a song by Protestant chaplain intern Aracelis Vazquez and a performance by the Connecticut College step team, Camel Backs.
For media inquiries, please contact:
Amy Martin (860) 439-2526, amy.martin@conncoll.edu
You might also like...