Connecticut College News
Back to Current News
Trapeze school inspires students to explore falling and flying
01/7/2011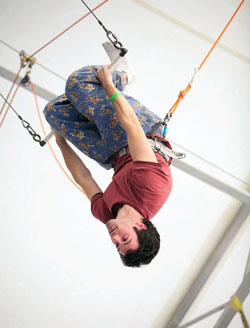 What do dance, neuroscience, documentary film making and creative writing have in common? Trapeze school, of course. Students and professors from classes in each of the four disciplines capped a semester-long study of "falling and flying" with a trip to Trapeze School New York in November.
Film students David Kelley '11 and Patrick Cremens '11 captured the flipping, flying and fun on video for their "Documentary Theory and Production" class. An excerpt of their film is on the Connecticut College YouTube channel.
The themed semester of study for the four classes, which in addition to documentary film included narrative non-fiction, modern dance and "Genius, Creativity and the Brain," a neuroscience class for freshmen, is part of a multidisciplinary curriculum collaboration funded by the Sherman Fairchild Foundation. The initiative is designed to invigorate curricular thinking by integrating the arts across the disciplines and fostering faculty collaboration.
The trapeze school experience (see photos) inspired students in all four classes. Students in Professor Adele Myers' dance class, for example, choreographed "This Dance is What You See," a piece that incorporates jumps, extensions, balance turns and falls. Two students in the documentary film course profiled Ronald Bastine, a former professional tap dancer who now works as a Connecticut College campus safety officer, while students in the creative writing class wrote short stories related to the theme of falling and flying.
The neuroscience students explored creativity and the inner workings of creative genius by interviewing students from one of the other three classes. Then, to demonstrate their own creativity, they produced Web pages based on their findings.
"By the end of the course, I realized scientific genius is just like artistic genius," neuroscience student Julia Cristofano '14 said. Neuroscience Professor Joe Schroeder said a common theme explored by the students was what would happen if the creative were no longer able to create. "Most people said they could not answer or they would have to shrivel up and die," he said.
For media inquiries, please contact:
Amy Martin (860) 439-2526, amy.martin@conncoll.edu
You might also like...