Connecticut College News
Back to Current News
Alumni journalists return to campus to share industry insights and give advice to aspiring reporters
10/16/2012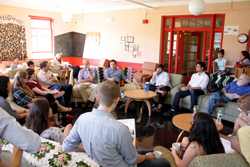 Students, alumni journalists and professor John Gordon gathered in Coffee Grounds for "J-Day," an annual journalism workshop sponsored by The College Voice. Photos courtesy of Maia Schoenfelder/The College Voice.
As the sun filtered through the bay windows of Coffee Grounds in Katharine Blunt House, nearly 30 students gathered at high top tables and couches for J-Day.
Short for Journalism Day, the annual event is organized by student editors of The College Voice to bring alumni working in digital, print or broadcast journalism to campus. This year's event featured Ben Johnson '04 of Marketplace Radio, formerly of Slate Magazine; David Papadopoulos '93 of Bloomberg News; and Jonathan Fahey '92 of the Associated Press.
Melanie Thibeault '14, arts editor for The College Voice, opened the discussion with a question about the moment each reporter knew that journalism was the right career for him. Students perched on the edge of their seats, some cradling mugs of coffee or tea in their palms, waiting for the first response.
Jonathan Fahey, an English major and theater minor, opened the discussion, describing his start as a news clerk or "gopher" for the New York Times. He went on to write for the Concord Monitor in Concord, N.H. before spending the majority of his career covering energy for Forbes and now the Associated Press.
"I was a curious person, and I've always loved papers," Fahey said. "I sort of expected that this was where I'd end up."
Ben Johnson responded next, describing his path as a government major from a D.C. internship in Congress - "I didn't love it," he said - to the Staten Island Advance, WNYC radio, Slate magazine and now Marketplace Media. The pivotal moment in his journalism career, though, came shortly after graduating from Connecticut College while working for The Day. Johnson's editor unexpectedly assigned him a murder in Montville to cover, and Johnson described the adrenaline rush he felt as he walked through the town's neighborhood, knocking on doors and asking questions.
"I get that same feeling when I am working on a story - that I shouldn't care as much as I do," he said.
A self-described "accidental journalist," David Papadopoulos took a less-straightforward path into journalism. He moved to Venezuela after graduation to teach English and soon began writing for an English speaking newspaper. In 1994, with less than two months of reporting experience, Papadopoulos found himself in the middle of Venezuela's banking crisis, reporting on a beat that few other foreign correspondents wanted to cover.
"With the financial crisis, I had this great scoop," Papadopoulos said. "I loved the thrill and the rush of having a scoop and having other news sources follow you." He now runs Latin American financial markets coverage for Bloomberg, where he has worked for 14 years.
For the rest of the afternoon, Fahey, Johnson and Papadopoulos shared their advice and experiences in the news industry. All agreed that aspiring reporters should develop expertise in a variety of subjects and feel comfortable writing about new or unfamiliar issues.
"You need to be flexible about the beat you want to cover," Papadopoulos said.
"It's incredibly valuable to go from beat to beat," Fahey added. "Oftentimes papers will move you around to get a fresh perspective."
Johnson agreed. "It's good to be a generalist," he said. "It's good to be tenacious, interested and willing to ask questions."
The three also shared their memories of the College, reflecting on the student experiences that trained them as journalists. Professor of English John Gordon sat on a couch listening intently, smiling and nodding along as Fahey, a former student, described his time at the College.
"I had never been to a play before I came to college," Fahey said. "I saw a flier for a play and I auditioned. And I got a part. I was in the first play I ever saw."
He encouraged students to seek out opportunities and take risks, both inside and outside the classroom. "You can walk up and start something," he said. "You're able to try so many things."
Fahey tried many other pursuits as a student, including a class with Blanche Boyd, the College's Roman and Tatiana Weller Professor of English and Writer-in-Residence. She eventually became his adviser, teaching him the importance of a properly placed comma.
"I passed in a story [to Blanche] once, and the punctuation was wrong," Fahey said. "She threw it back at me and yelled, 'I'm not even reading that!'"
Johnson also felt that his academic experience prepared him how to tell a story. "I really like that I came away from Conn with a sense of narrative. I had Blanche as well, and she really hammered that you show, don't tell."
He carries this advice into his reporting and writing today. "If I'm quoting somebody, I ask myself, 'Is there a quote that tells this story better than my description?'"
Other advice for students included taking classes in statistics, math and economics, and traveling overseas.
After hearing all of these words of advice, Melanie Thibeault '14 felt that the challenges of today's news industry seemed more surmountable. "It's encouraging," she said. "I think it is a hard field to break into, to find your niche. They all really enjoy what they are doing - that is very encouraging."
For media inquiries, please contact:
Amy Martin (860) 439-2526, amy.martin@conncoll.edu
You might also like...