Connecticut College News
Back to Current News
Biology class wades into local research
11/16/2012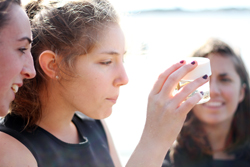 Students collect invertebrate samples in Niantic Bay Estuary. Photos by Laura Cianciolo '16.
Every other Wednesday, students in Professor Stephen Loomis' "Invertebrate Biology" class are knee deep - and often deeper - in the waters of the Niantic River Estuary. The students in this field-oriented, project-based class are studying the impact of marinas on local invertebrate populations.
"We want to see if the presence of the marina negatively impacts invertebrate numbers or diversity," said Loomis, the Jean C. Tempel '65 Professor of Biology at Connecticut College.
The on-site fieldwork includes mapping populations that live on the surface and below the sediments, collecting samples of the various species and comparing the findings from the marina site with a control site nearby. The students will each complete a statistical analysis of the findings, and the best paper will be turned in to the Niantic River Watershed Committee, a local group charged with studying and protecting the waterway.
Grace Glynn '13 said getting out of the classroom helps bring the science to life. "We're really lucky to be able to get hands on experience in the field. It makes it easier to understand what we learn about in lectures when we can actually go out and see it," she said.
Loomis said the course is specifically designed to help students make real-world connections and understand the relevance of the work they do in the labs and classrooms. "Their findings can help politicians, community leaders and other scientists make important public policy decisions," he said. - Laura Cianciolo '16 contributed to this article.
For media inquiries, please contact:
Amy Martin (860) 439-2526, amy.martin@conncoll.edu
You might also like...