Connecticut College News
Back to Current News
CBS This Morning interviews professor Vyse about Friday the 13th
01/13/2012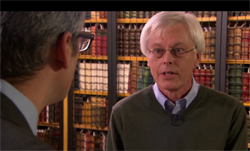 Psychology professor Stuart Vyse talks with CBS This Morning's Mo Rocca about the history of the Friday the 13th superstition.
What's in a superstition? A lot of history and folklore, according to psychology professor Stuart Vyse. Vyse was interviewed about Friday the 13th and the superstitions related to it for a segment on today's episode of CBS This Morning.
Reporter Mo Rocca visited the Connecticut College campus to learn about the history of Friday the 13th from Vyse, author of "Believing in Magic: The Psychology of Superstition." The story was part of the premier week for the new national morning program, which replaces "The Early Show."
"The superstition about Friday - Friday being an unlucky day - is quite old," Vyse says in the piece, which was filmed in the Palmer Room in Shain Library's Linda Lear Center for Special Collections and Archives. "Somewhere in the 19th century, probably in England, 13 got associated with Friday and you got a double whammy of bad luck."
According to Vyse, some good luck superstitions, like personal good luck charms, can be beneficial to people if they help reduce anxiety. But, he says, people should not worry about 'unlucky days,' and he advises people to go about their normal activities, even if Friday happens to fall on the 13th.
"Experiment with maybe doing one thing that might seem a little 'iffy' otherwise," he says, and you'll soon discover that Friday the 13th is just like any other day."
Vyse was also quoted about the superstition in two other articles out today, a CBC News piece and an article on EverydayHealth.com.
Also today, history professor David Canton was interviewed live on WNPR's Where We Live about Raymond Pace Alexander, a civil rights-era lawyer from Philadelphia. Canton's book, "Raymond Pace Alexander: A New Negro Lawyer Fights for Civil Rights in Philadelphia," was recently awarded the 2011 W.E.B. Du Bois Book Prize from the Northeast Black Studies Association.
For media inquiries, please contact:
Deborah MacDonnell (860) 439-2504, dmacdonn@conncoll.edu
You might also like...