Connecticut College News
Back to Current News
College community will gather to remember Professor Dirk Held
04/23/2012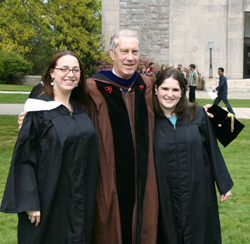 Professor Held, center, poses with Emily Morse '05 and Emily Huebscher Meyer '05. Photo courtesy of Emily Morse '05.
The Connecticut College community will gather at 4 p.m. on Friday, April 27, in Harkness Chapel to remember Dirk t. D. Held, the Elizabeth S. Kruidenier '48 Professor of Classics and longtime chair of the Department of Classics, who died March 21.
The service will feature music performed by faculty and students and reflections from Connecticut College President Leo I. Higdon Jr. and Held's family members and colleagues. A bagpipe recessional will lead the assembled to a reception in the College Center at Crozier-Williams after the service.
A member of the faculty since 1971, Held was known for his warmth and sense of humor. His enthusiasm for the classics and encouraging demeanor heavily influenced many of his students, including one who became a colleague. Assistant Professor of Classics Eric Adler '95, who will deliver a remembrance of Held at the service, says he would never have majored in classics if not for his colleague.
"Dirk was my adviser when I was a student," Adler said. "He was an unbelievably talented teacher, with an easygoing, avuncular manner and a wry sense of humor. He was also a supportive, unselfish man, in the classroom and out. There's nothing he wouldn't do - he routinely took on 4/3 teaching loads, did multiple independent studies and, despite all his obligations, he managed to publish widely, writing really top-notch scholarship. If he's not a model of what a Connecticut College professor should be, I don't know who is."
Held had a similar impact on classical languages major Travis Lynch '12, who took Held's class on Socrates as a freshman. "His treatment of the Socratic dialogues was the beginning of my interest in philosophy," Lynch said. "I read more Plato with Held in Greek later on, and this academic year I had been working on a thesis about the philosopher. Indeed, I got involved in the classics department largely under his influence. He was perhaps the most influential professor I have ever had."
Like Adler, Lynch appreciated Held's sense of humor as well as his kindness. "He was a warm person. The classics department once held a majors/minors event in which students in the department presented regarding their semesters abroad and work. At the end of the presentation, Held stood up and said - I paraphrase - that it was great to be a professor of classics because of authors like Aeschylus and Thucydides, but even more so because of the students," Lynch said.
Other students and colleagues shared their thoughts on Held in the college's student newspaper, The College Voice. The College has created a memorial Web page for Held. The program and other materials from the memorial service will be posted to the page following the event.
For media inquiries, please contact:
Amy Martin (860) 439-2526, amy.martin@conncoll.edu
You might also like...