Connecticut College News
Back to Current News
College dedicates Science Center at New London Hall
10/27/2012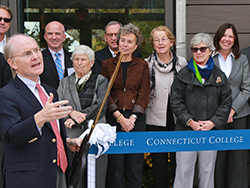 President Leo I. Higdon Jr. speaks at the dedication of the Science Center at New London Hall.
Hundreds of Connecticut College faculty, staff, students and friends gathered on Centennial Plaza today to honor the spirit of generosity that helped transform the College's oldest building into the new, state-of-the-art Science Center at New London Hall.
At this morning's ceremony, the College dedicated the building and honored the eight women who provided leadership funding for the $25.3 million project. President Leo I. Higdon Jr. paid tribute to Judith Ammerman '60, Susan Eckert Lynch '62, Helen Fricke Mathieson '52, Judith Tindal Opatrny '72, Mary Lake Polan '65 P'02 '10, Frances Gillmore Pratt '60 P'89 and Jean C. Tempel '65, as well as an alumna who chose to support the project anonymously. He noted that their tenacity was a fitting tribute to the College's historic roots as a women's college.
"Whether it was the encouragement they got from their professors, an understanding of the importance of science to a liberal arts education or a keen interest in attracting the best and brightest students to the College, these women made up their minds to make this building happen," Higdon said.
Higdon specially thanked Tempel, whom he called a "truly visionary leader." He credited Tempel with recognizing the power of creating an environment where different disciplines could come together to share thoughts and ideas, calling this cross-disciplinary approach the heart of a liberal arts education.
Tempel has said the sciences are a critical part of the liberal arts core. "They teach students how to attack a problem in a disciplined way, and they can also take students in unexpected directions," she said.
In addition to these leadership gifts, support for the Science Center was provided by several foundations, including the Sherman Fairchild Foundation, which made the second largest foundation gift in the history of the College. Additional alumni and parents also supported the project through the Campaign for Connecticut College.
Today's ceremony also included remarks by Mary Lake Polan '65 P'02 '10, a prominent physician and adjunct professor of obstetrics, gynecology and reproductive services at Columbia University.
"In life and politics today, important decisions are based on the sciences. If you don't understand science, you can't participate or serve society in the manner you should. You have to broaden your interests so you are prepared for the world you enter today," she said.
The Science Center, now home to the biology, botany and computer science departments, includes a completely renovated New London Hall, a 14,000-square-foot addition and a complete renovation of the greenhouse. Faculty were involved from the beginning in the planning and design of the building, which has 28 percent more space for research and teaching and boasts 13 new labs, three multi-purpose classrooms and 21 offices. The building is designed to foster collaboration, and labs and classrooms are connected to create flexible spaces for students and faculty to share ideas and solve problems.
"The teaching labs are great and I'm enjoying seeing the students have a place where they can gather, even in small groups, to share their experiences as part of the sciences," said Peter Siver, director of the environmental studies program and the Charles & Sarah P. Becker '27 Professor of Botany at Connecticut College.
Following the dedication ceremony and reception, attendees returned to the Science Center for building tours and presentations. Students were also on-hand to showcase some of the research taking place in the building.
"When I heard that I would have chance to do research in this high-tech building, I was so thrilled," said Zully Jimenez '15, who is part of the College's Science Leaders program. "The Science Center makes students very proud, thankful and inspired to achieve great things."
For media inquiries, please contact:
Deborah MacDonnell (860) 439-2504, dmacdonn@conncoll.edu
You might also like...