Connecticut College News
Back to Current News
College is recognized as a top producer of Fulbrights
11/14/2012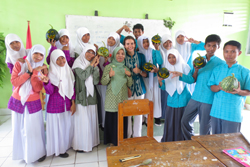 Fulbright winner Catharina Damrell '11 with her students in Kendari, Indonesia.
Connecticut College's record nine Fulbrights, awarded to students and recent alumni in April of 2012, have earned the College a top spot on the Chronicle of Higher Education's annual list of top-producing bachelor's institutions. The College has the sixth highest number of award winners, with more than twice as many 2012 Fulbrights as Wesleyan University and Trinity College.
Fulbright fellows receive round-trip transportation to the host country, a living stipend, research allowances and medical insurance. Connecticut College is consistently recognized as a top producer of Fulbright fellows, with 31 winners in the last six years.
"The Fulbright is a strong complement to the Connecticut College liberal arts experience, and to receive nine in one year is a testament to the College's commitment to educate our students to be active citizens in a global society," President Leo I. Higdon Jr. said.
Connecticut College's 2012 Fulbright award winners are: Savitri Arvey '12, Rebecca Cheney '12, Catharina Damrell '11, Myles Green '09, Justin Koufopoulos '10, Elizabeth Maret '12, Lindsay Paiva '12, Katherine Sartiano '12 and Karam Sethi '12.
Savitri Arvey '12, Fulbright English Teaching Assistantship, Mexico
Arvey, an international relations major and scholar in the College's Toor Cummings Center for International Studies and the Liberal Arts (CISLA), is teaching English at la Universidad Pedagógica Nacional in Mexico City.
At the university, Arvey leads English conversation clubs about U.S. politics, art, education, history and culture. In addition, she is taking classes at the Universidad National Aútonoma de México and is interning part-time with an NGO focused on sustainable development.
"I became interested in critical education and the Mexican education system while taking Professor [Michael] James' 'Revolutionary Education' class last year," Arvey said. "A Fulbright seemed like the perfect way to pursue both of these interests.
Arvey said her experiences conducting research, studying and interning in Latin America through the CISLA program, as well as volunteering in New London schools and as a tutor, prepared her well for the Fulbright program. Following her Fulbright year, she plans to attend graduate school.
Rebecca Cheney '12, Fulbright Research Award, Japan
Cheney, a Japanese language and literature major and CISLA scholar, is spending the year in the area of Hokkaido, Japan, investigating the potential to implement a public school curriculum to revitalize the language of the indigenous Ainu.
Cheney credits the College's East Asian languages and cultures and education departments with fostering her passion for the preservation of indigenous cultures.
"Both have been instrumental in shaping my world view and my decision to go into indigenous advocacy work," she said.
Cheney plans to teach and pursue a graduate degree in education policy after the completion of her Fulbright fellowship.
Catharina Damrell '11, Fulbright English Teaching Assistantship, Indonesia
Damrell, who majored in environmental studies at Connecticut College, is teaching at a high school in Kendari, the capital of the Indonesian province of South East Sulawesi.
She runs an English club for the students at the school, a public school that is overseen by Indonesia's Department of Religion. Recently, she taught members of the club to carve pumpkins.
"They loved it, and were very fast learners," she said. "I also showed them how to do the dance on the 'Thriller' music video."
Damrell describes the Fulbright experience as life-changing.
"I love my teachers here and my students are so enthusiastic. The heat can seem unbearable at times, but totally worth it," she said. "My whole experience here has been extremely rewarding. I can only imagine what after Fulbright will bring, but I certainly will take into account my time in Indonesia."
Myles Green '09, Fulbright English Teaching Assistantship, Italy
Green, a double major in Italian and art at Connecticut College, is teaching at an Italian high school and plans to complete an independent project working with immigrant communities.
"The Fulbright is an excellent opportunity to learn, grow and explore with others and on my own," said Green, who won the College's 2009 Oakes and Louise Ames Prize, the highest academic award for a graduating senior, for his thesis, "Oriental Bittersweet and Other Invasive Species: Americans in North America."
Green said the experience of completing his senior thesis has shaped his post-graduate life and inspired him to pursue the Fulbright.
"An extraordinary amount of sharing and collaboration took place," he said. "After graduating, I've been seeking to cultivate more of these moments, whether through living in the community, growing vegetables with others or teaching at a public high school."
Prior to his Fulbright in Italy, Green had been teaching Italian at Peabody Veterans Memorial High School in Peabody, Mass. He hopes to share all of the videos, interviews and stories he gathers in Italy with his students at the school, and also plans to publish a children's story about a curious cat upon his return.
Justin Koufopoulos '10, Fulbright Research Award, United Kingdom
Koufopoulos, who majored in psychology with a minor in East Asian languages and cultures, is conducting social science research and pursuing a master's degree in psychology at the University of Leeds.
Koufopoulos is studying mHealth, or mobile health. He is building an app that connects chronically ill patients together via a mobile social network, and measuring its impact on patient health, satisfaction and medication adherence.
"It's really exciting, because it is truly novel - there has never been a study of this kind to my knowledge, and I get to create a new piece of technology," he said. "It's truly applied work. I think the promise of mHealth and online social networks is a much more collaborative, patient-empowered healthcare system."
After completing his Fulbright research and his master's at the University of Leeds, Koufopoulos hopes to continue to explore how research can be used to create meaningful products by engaging with startup companies and gaining social enterprise and entrepreneurship experience.
Elizabeth Maret '12, Fulbright Research Award, Japan
Maret, a double major in physics and Japanese, is at the University of Tsukuba studying phonon spectroscopy techniques with Professor Muneaki Hase.
"We are using phonon spectroscopy to study the electrical properties of carbon nanotubes," she said. "Spectroscopy is such a powerful tool for discerning the basic electrical and atomic properties of a material because it examines the material without damaging it. It is because of this that I would ultimately like my career to focus on the application of optical spectroscopy techniques to diagnostic medicine."
Maret says she wants to become proficient in technical Japanese to help bridge the communication gap between American and Japanese physicists.
Maret, who served as co-captain of the Connecticut College women's cross country team, has also joined the University of Tsukuba's Wandervogel hiking group, which travels around the country on weekends for hiking, running and rock climbing excursions.
"I've been able to meet many diverse people and share some very stimulating conversations," Maret said. "I'm finding that inspiration comes in unexpected places and no single day is ever without its new interesting twist."
Following her Fulbright fellowship, Maret will pursue a Ph.D. in physics at the University of Michigan.
Lindsay Paiva '12, Fulbright Research Award, Italy
Paiva, an English major, Italian studies minor and scholar in the College's Holleran Center for Community Action and Public Policy, is researching Tuscany's regional development program, Giovanisí. Created by Tuscany's president in response to high levels of youth and female unemployment in the region, the program provides opportunities for study, training and employment, as well as paid internships and civil service experiences, stipends for housing and vouchers for childcare.
Paiva, who also earned an elementary education certificate at Connecticut College, said she is interested in how the program operates at the administrative level, but also wants to explore the individual experiences of participants and coordinators. She is working in the Giovanisí regional office and is traveling around the country to meet with people involved with the program.
"I am really looking forward to hearing their stories, meeting their families, watching them grow and change, and sharing their celebrations and their struggles," she said. "To understand if a policy is effective is more than mining data and compiling pages and pages of statistics. People drive these policies, and it is the stories of these people that are inextricably tied to program efficacy."
Katherine Sartiano '12, Fulbright English Teaching Assistantship, Germany
Sartiano, an English and German double major and CISLA scholar, is teaching English at a German school, combining her passion for teaching with her love of German culture.
Sartiano said she was inspired to pursue the Fulbright by her study abroad experience in Germany and her work volunteering in the New London public schools and working at the writing centers at Connecticut College and the Coast Guard. While in Germany, she completed a College-funded internship at the Mannheim Institute for Integration and Inter-Religious Dialogue, where one of her main responsibilities was to give tours of the country's largest mosque to students of all ages and religious backgrounds.
Sartiano plans to attend law school in the United States after completing her Fulbright Fellowship.
Karam Sethi '12, Fulbright English Teaching Assistantship, Malaysia
Sethi, an international relations major with a concentration in national security, will teach English at a primary or secondary school in one of Malaysia's three Muslim provinces, Terengganu, Pahang or Johor. While there, he plans to teach a class on the basics of photography or start a small soccer league. Because of differences in the Malaysian school calendar, Sethi's Fulbright begins in January.
"I want to interact with different cultures, not simply read about them," Sethi said. "Like the U.S., Malaysia is a melting pot of cultures and religions. Much of my research at Conn has revolved around cultural collisions in underdeveloped countries and I believe Malaysia can serve as a model for peaceful coexistence."
Sethi, who hopes to attend graduate school for international affairs and ultimately pursue a career in national security policy research, said being surrounded by passionate people at Connecticut College has had a tremendous impact on him.
"I have professors who have been wartime photographers and United Nations observers. I have friends who are playing professional soccer in South Africa and creating cutting edge sounds that will end up revolutionizing the music industry. Seeing amazing people accomplish amazing things pushed me to want to do the same," he said.
For media inquiries, please contact:
Amy Martin (860) 439-2526, amy.martin@conncoll.edu
You might also like...