Connecticut College News
Back to Current News
College marks Constitution Day with special exhibit
09/17/2012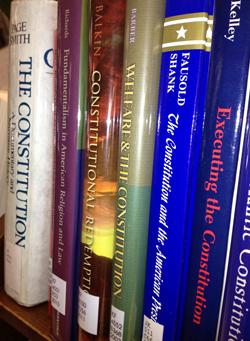 With less than 5,000 words on just four pages, the U.S. Constitution lays the foundation for a political system that has survived for 225 years.
In recognition of Constitution Day, Sept. 17, Connecticut College's Shain Library is featuring a special exhibit of books related to the historic document. The College's collection includes works such as, "Original Meanings: Politics and Ideas in the Making of the Constitution," Jack N. Rakove; "America's Constitution: A Biography," by Akhil Reed Amar; "How Democratic is the American Constitution?" by Robert A. Dahl; and "A Constitution of Many Minds," by Cass R. Sunstein.
Located on the main floor of Shain Library, the display is open to the College community and the general public until Sept. 26.
Constitution Day is celebrated each year to commemorate the signing of the U.S. Constitution on Sept. 17, 1787.
For media inquiries, please contact:
Amy Martin (860) 439-2526, amy.martin@conncoll.edu
You might also like...