Connecticut College News
Back to Current News
College receives $50,000 from Hoffman Foundation
08/21/2012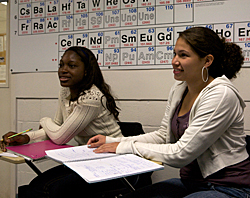 Connecticut College has received a $50,000 grant from The Maximilian E. and Marion O. Hoffman Foundation, Inc., for continued support of the Hoffman Scholars Fund at Connecticut College. The Hoffman Scholars Fund was established at the College in 2008 to provide scholarships to Connecticut students in the College's Science Leaders Program.
The Science Leaders Program, launched in 2007 with a grant from the National Science Foundation, aims to increase the number of women and minority students graduating from Connecticut College with a degree and research experience in the sciences. Students admitted to the program are often from economically disadvantaged backgrounds and priority is given to women, students of color and first-generation college students.
Science Leaders receive enhanced scholarships, additional mentoring and support, career preparation and counseling and assistance applying to graduate and medical school. They also complete an intensive first-year seminar with other Science Leaders. With this grant, the Hoffman Foundation has awarded a total of $125,000 to support Connecticut-based students in the sciences at Connecticut College.
"We sincerely appreciate the Hoffman Foundation for its support of this worthwhile program," said Dean of the Faculty Roger Brooks. "We just graduated our first class of Science Leaders - young men and women who are pursuing careers and further study in the sciences. The Hoffman Foundation is an instrumental part of this very successful program."
About The Hoffman Foundation The Hoffman Foundation, based in West Hartford, Conn., was founded in 1983 by Marion O. Hoffman and her sister, Doris C. Chaho. Chaho's daughter, Marion Barrak, currently serves as the foundation's president. The Foundation's funding priorities include medicine, education, the arts, and charitable activities with a strong regional focus on Connecticut.
For media inquiries, please contact:
Amy Martin (860) 439-2526, amy.martin@conncoll.edu
You might also like...