Connecticut College News
Back to Current News
Connecticut College celebrates its first graduating class of Science Leaders and their numerous achievements.
05/21/2012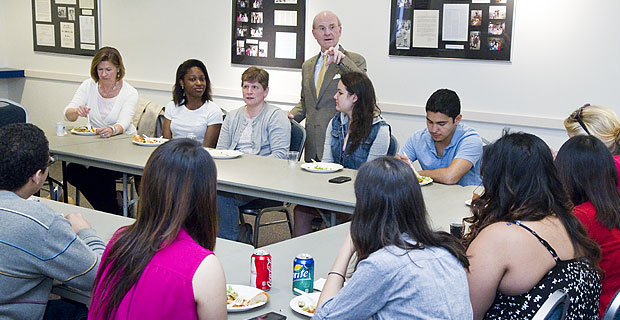 Science leaders have lunch with President Higdon.
More than just science students, Connecticut College's first graduating class of Science Leaders are athletes, musicians, researchers, volunteers, activists and student leaders. The diverse group of 17 arrived on campus in August 2008 when the new Science Leaders Program, funded with a grant from the National Science Foundation, welcomed its first class. The program promised close faculty mentoring, career preparation and enhanced financial aid for students traditionally underrepresented in the sciences - women, people of color, economically disadvantaged and first-generation college students.
Jean C. Tempel '65 Professor of Physical Sciences Marc Zimmer led the group of freshmen on a research trip to study microscopic organisms that light up the bioluminescent bay of Vieques, Puerto Rico. It was the first of many research opportunities the Science Leaders would find at Connecticut College.
"If I hadn't been in Science Leaders, I am almost certain that I wouldn't have access to lab research until I was an upperclassman," says Courtney Dwyer, a biological sciences major who did research for three years in biology Professor Anne Bernhard's lab.
Over their four years, the students published journal articles, presented conference posters and, in the case of behavioral neuroscience major Rabia Nasir and biological sciences major Kathryn Arroyo, even authored a neuroscience textbook chapter.
"I was introduced more to the world of science by being able to go to many different conferences," says Samuel Alvarez, a chemistry major who worked in Zimmer's lab for several semesters and published two papers with him. He begins graduate studies at Duke in the fall.
In addition to their extensive research opportunities on campus, many Science Leaders studied and conducted research around the country and abroad. Behavioral neuroscience major Lauren Manning studied in China and volunteered at a health clinic where she interviewed Tibetan doctors and patients for an independent study on health care in that community. She says the Science Leaders Program "gave me a head start in developing my academic interests." Manning, one of the College's Winthrop Scholars, plans to begin medical school next year.
Erick Argueta, a biochemistry, cellular and molecular biology major, received an American Chemical Society International Research Experiences for Undergraduates award to study nanometrology in Glasgow, Scotland, the summer after his sophomore year. Before applying to medical school, he plans to join the lab at Yale School of Medicine where he researched polycystic kidney disease last summer.
"The Science Leaders Program provided me with a wonderful blend of academia and research," Argueta says.
The students were community leaders as well. French and math major Catherine Lawton volunteered with Kids, Books and Athletics, promoting reading and physical fitness at a New London child-care center. Tonesha Hunt, a scholar in the Holleran Center for Community Action and Public Policy who majored in psychology and human development, earned the Holleran Center Community Action Award.
"The Science Leaders helped me to find my passion in substance abuse and the effect it has on families," says Hunt, who will begin graduate studies at the University of Connecticut School of Social Work this fall.
Science Leaders also participated in athletics, music, student government, and cultural groups such as La Unidad, the Muslim Student Association, and ALANA, a peer mentor group for students of color.
The best mentors, however, may have been their fellow Science Leaders. "It was a great way to meet like-minded people in the beginning of college when everything seems so overwhelming, and I have met lifelong friends through it," says Dwyer, who will conduct ecological studies in New Mexico's Bandelier National Park before heading to graduate school.
Argueta agrees: "As a Science Leader, I have had the opportunity to form a network with students from different backgrounds that all share many of the same career goals and aspirations that I do."
For media inquiries, please contact:
Amy Martin (860) 439-2526, amy.martin@conncoll.edu
You might also like...