Connecticut College News
Back to Current News
Connecticut College weathers the storm
10/30/2012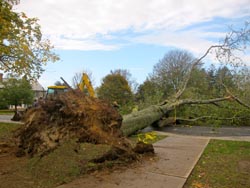 A large tree blocks the road from Harkness Chapel to Horizon House. Photo by Meredith Boyle '13, courtesy of The College Voice.
Hurricane Sandy hit the New London area hard on Monday, with 70-mile-an-hour winds and record storm surges. The region experienced power losses, property damage and major flooding - but Connecticut College emerged relatively unscathed.
"We were well prepared, and we also had some good luck," said President Lee Higdon, who spent Monday evening visiting with students in Harris Refectory.
Though students saw a few lights flicker and heard strong gusts of wind, the power remained on for all but a few campus buildings. Power was lost only in faculty and staff housing on Benham and North Ridge Roads and three small student residences - College House, Earth House and the 360 Apartments. Most of the 26 students affected stayed with friends in other residence halls.
There were no storm related injuries on campus and damage was limited primarily to broken branches and several downed trees. The tidal surge along the Thames River left a field of debris on the College's waterfront but the docks and boathouse were undamaged.
For days before the storm, grounds crews were deployed to trim trees and clean out storm drains and window wells to prevent flooding. Generators were checked and fueled and an additional generator was procured. The College stockpiled 1,100 flashlights and batteries in case of power outages.
"We started planning last week by asking our food vendors to deliver early," said Ingrid Bushwack, director of dining services.
By Monday morning, Harris was stocked with a week's worth of food and water. If the power had gone out, generators would have kicked in to run emergency lights, refrigerators and freezers.
On Sunday, student athletes helped their coaches secure the College's waterfront, moving sailboats to a protected location on Dawley Field and carrying rowing sculls inside the Luce Fieldhouse. On Monday, as wind speeds mounted, tennis coach Chris O'Brien and other coaches took down the tennis court windscreens to prevent fence damage. Also on Monday, as the state closed roads across the region, the Athletics Center, Shain Library and the Oasis Snack Shop closed early.
"We wanted staff to be able to get home to their families and we didn't want students to venture out in the storm," said Ulysses B. Hammond, vice president for Administration and leader of the College's emergency response team.
Monday night, additional campus safety officers were deployed, and a team of carpenters, electricians, and plumbers spent the night on campus ready to address any storm-related problems. In addition, dining services personnel remained on campus in order to make sure that dining halls would be fully staffed on Tuesday.
Sara Rothenberger, director of residential education and living, worked closely with housefellows and floor governors to plan residence hall activities and keep them updated throughout the storm.
"We were first and foremost focused on the safety of the students," she said. "And then we made sure we had activities planned that didn't rely on electricity."
Nick Luce '14, a Harkness House resident, played charades and organized a Harry Potter movie marathon, while Genevieve Harding '13, who lives in the 360 Apartments, spent time baking bread and cinnamon rolls and making soup, just in case they weren't able to leave their apartments.
"When we lost power, we played Pictionary in the dark with flashlights, and it got pretty competitive," she said.
The College provided updates to staff, faculty, students and parents throughout the storm.
For media inquiries, please contact:
Amy Martin (860) 439-2526, amy.martin@conncoll.edu
You might also like...