Connecticut College News
Back to Current News
Connecticut College welcomes 10 new professors
09/5/2012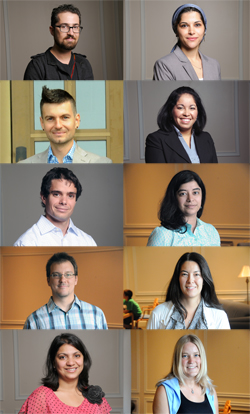 The 2012 new faculty. Top Row [from left]: Nadav Assor and Waed Athamneh. Second Row: Christopher Barnard and Ana Campos-Holland. Third Row: David Chavanne and Sheetal Chhabria. Fourth Row: Denis Ferhatovic and Suzuko Mousel Knott. Fifth Row: Priya Kohli and Karolin Machtans.
They come from Texas, California, Iowa, Illinois and even Turkey, and include an expert in spatial data analysis, a woman who studies parenting by criminals and an English professor who can speak five languages and read seven more. The 10 new tenure-track faculty members who have joined the Connecticut College community this fall bring unique perspectives and diverse expertise to the College's rigorous academic program.
"We are privileged to welcome these 10 individuals into Connecticut College's top caliber faculty," Dean of the Faculty Roger Brooks said. "They are already making an impact on campus and their teaching and scholarship will enrich many different departments."
The new tenure-track faculty members are:
Nadav Assor, assistant professor of art: An expanded media artist, Assor earned a master of fine arts from the School of the Art Institute of Chicago. Most recently, he served as a visiting assistant professor of new media art at the University of North Texas. Assor, whose work is already on display at the College as part of the 2012 Visual Arts Faculty Exhibition, received a 2011 Emerging Artist Award from the Israeli Ministry of Culture.
Waed Athamneh, instructor of Arabic studies in the department of classics: Athamneh, who specializes in modern Arabic poetry, 20th-century Arabic politics and feminism in modern Arabic fiction, has been promoted to tenure-track from a visiting position at the College. She is earning her Ph.D. in near eastern studies and Semitic languages at Indiana University in Bloomington, and will direct the College's Arabic studies program this year. She is also a creative writer of fiction and poetry.
Christopher Barnard, assistant professor of art: Barnard, who specializes in painting and drawing, earned a master of fine arts from the University of Southern California (USC). He has had many sole and group exhibitions and also has work on display as part of the College's 2012 Visual Arts Faculty Exhibition. He was previously a lecturer at the USC Roski School of Fine Arts.
Ana Campos-Holland, assistant professor of sociology: Campos-Holland, who has a Ph.D. in sociology from the University of Iowa, specializes in crime, punishment, law, childhood and family studies. Her dissertation was entitled "'Doing' Parenthood: Crime, Illicit Drugs and Parenting under Mass Correctional Supervision," and she has given a number of presentations on the effects of parental drug use, violence and imprisonment on children.
David Chavanne, assistant professor of economics: Chavanne's areas of expertise include experimental economics, public choice and law and economics, and his research focus is on third-party redistribution. He earned his Ph.D. in economics from George Mason University and had been a visiting assistant professor at Middlebury College.
Sheetal Chhabria, assistant professor of history: Chhabria, who has a Ph.D. in history from Columbia University, recently completed a post-doctorate fellowship at Rutgers University. Her dissertation was entitled, "Making the Modern Slum and Urbanizing Poverty: Bombay and its Oceanic Frontier."
Denis Ferhatovic, assistant professor of literatures in English: Ferhatovic specializes in medieval and renaissance literature. A native speaker of Serbo-Croatian, Ferhatovic earned his Ph.D. in English language and literature from Yale University. He was previously a visiting professor in the department of cultures, civilizations and ideas at Bilkent University in Turkey. In addition to Serbo-Croatian and English, Ferhatovic speaks French and basic German and Turkish, and can also read Latin, Middle High German, Macedonian, Old English, Old French, Old Norse and Spanish.
Suzuko Mousel Knott, assistant professor of German: Knott, who earned a Ph.D. in Germanic languages and literatures from Washington University in St. Louis, has been a visiting assistant professor of German at Bradley University for the past year. Her research and teaching interests include 19th - 20th century literature, film and philosophy; transnational literatures; media studies; women and gender studies; representation of sport in literature and visual culture; and representations of the Holocaust.
Priya Kohli, assistant professor of mathematics: Kohli is a statistics expert with interests in spatial data analysis, modeling covariance metrics, longitudinal data analysis, multivariate models, missing data analysis and interdisciplinary research. She earned a Ph.D. in statistics from Texas A&M University, and her dissertation was on prediction and estimation of random fields.
Karolin Machtans, assistant professor of German: Machtans, who earned a Ph.D. from Universität Hamburg, was previously the head of the German program at California Polytechnic State University. She has also taught at the University of Cambridge, where she served as director of studies in modern and medieval literature. Her areas of expertise include German literature from the 18th century to the present, 20th and 21st century German literature and film, and the history and theory of the German novel. In addition to German and English, Machtans speaks French, can read Middle High German and has some comprehension of Yiddish, Turkish and Latin.
For media inquiries, please contact:
Deborah MacDonnell (860) 439-2504, dmacdonn@conncoll.edu
You might also like...