Connecticut College News
Back to Current News
Emmy-winning writer and co-creator of 'Homeland' to be 2013 Commencement speaker
09/25/2012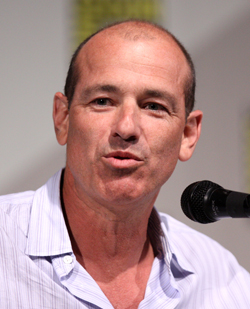 Howard Gordon at the 2011 Comic Con in San Diego. Photo by Gage Skidmore.
Television executive and author Howard Gordon will be the keynote speaker at Connecticut College's 95th Commencement on May 19, 2013.
Gordon is the co-creator of the Emmy-winning television series "Homeland," for which he won the 2012 Primetime Emmy Award for Outstanding Writing for a Drama Series. He is also known for his work as the showrunner and executive producer of "24."
His other television credits include "The X-Files," "Buffy the Vampire Slayer," "Angel," "Beauty and the Beast" and "Spenser: For Hire."
In addition to his television work, he is the author of two novels, "Gideon's War," published in 2011, and the sequel, "Hard Target," published this year.
"His innovative work - and especially his talent for taking the most topical issues of the day and incorporating them into compelling storylines for broad audiences - is extraordinary, and reflects the kind of thoughtful, thorough and resourceful approach we seek to instill in our students through this liberal arts education," said President Leo I. Higdon Jr.
Gordon, a graduate of Princeton, is a member of the Pacific Council on International Policy, an organization focused on policy issues of special resonance to the West Coast, and is a former president of the Stroke Association of Southern California.
"In Howard Gordon, we will have a tremendous speaker whose work exemplifies many of the principles Connecticut College seeks to inspire in its students: service to community, development and stewardship of the next generation of leaders, active participation in our democratic society and awareness of every person's responsibilities as a citizen within a global society," said Higdon.
Gordon was nominated to be Commencement speaker by a committee of Connecticut College students, staff and faculty. He will receive an honorary degree during the ceremony.
For media inquiries, please contact:
Amy Martin (860) 439-2526, amy.martin@conncoll.edu
You might also like...