Connecticut College News
Back to Current News
Language students turn student center into hub of world culture for local fifth graders
03/6/2012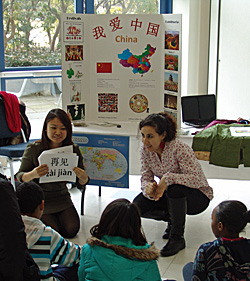 On one side of the room, children dipped their hands in water before using them to form an onigiri, or Japanese rice ball. On the other, their classmates bent straws into cross shapes and tied the centers with ribbons to make traditional Russian ornaments. Just to the left, another group of kids rolled around a small blue ball, learning how to play an African ball game.
Connecticut College's Crozier-Williams student center was a hub for world culture during the second annual International Children's Expo last week. More than 50 fifth graders from New London's Winthrop Magnet Elementary School visited the campus to learn from college students about phrases and culture associated with nine different languages.
"It's a wonderful day of activities to promote language, culture and peace," explained Tracee Reiser, director of the College's Office of Volunteers for Community Service (OVCS), which hosted the event this year.
The International Children's Expo was established last year by Pablo Tutillo '13, who received a grant from the College's Holleran Center for Community Action and Public Policy to fund the event. This year, the Expo was continued with support from OVCS, the Toor Cummings Center for International Studies and the Liberal Arts (CISLA) and undergraduate students eager to find new ways to express their passion for their language studies. More than 30 Connecticut College students volunteered to set up and lead games, activities and lessons to introduce the elementary students to French, Spanish, Russian, Japanese, Chinese, Hebrew, Italian, Arabic and Swahili.
"I never get to work with kids," said Ellen Nadel '13, who helped to design the Hebrew and Israel station. "This event helps to reinforce an appreciation for both the language and the country, and it's been fun taking some time out of the day to hang out with fifth graders."
It was the kids, however, who seemed to be having the most fun. At the French station, the fifth graders were frequently collapsing in laughter as they played a game where they had to hold on to one another's chins and sing a French children's song. And at the Spanish station, they danced energetically to traditional Spanish music. Emma la Fountain '13, one of the student organizers for the event this year, said the fun and games reinforced the important lessons the children could learn from the expo.
"We're in a very global society," she said, "and it's really important to have an understanding of that nowadays."
Those lessons weren't lost on the fifth graders, either. Asked about his favorite part of the event, one boy answered, "The games and the songs!" Another chimed in, "Seeing all the different kinds of food." But one little girl summed it up best when she answered, "Learning about all the different people and places that I didn't know were out there." - Story and photos by Sam Norcross '14
For media inquiries, please contact:
Amy Martin (860) 439-2526, amy.martin@conncoll.edu
You might also like...