Connecticut College News
Back to Current News
Music professor lends his talent to 'Moonrise Kingdom'
09/12/2012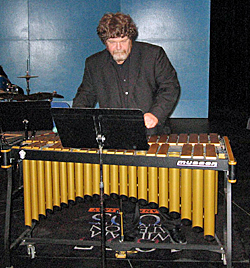 Music professor Peter Jarvis
When Scout Master Ward, played by Edward Norton, marches through his Khaki Scout summer camp in the film "Moonrise Kingdom," he marches to the beat of Peter Jarvis, an adjunct assistant professor of music at Connecticut College.
Jarvis, who specializes in percussion and chamber music, performed "Camp Ivanhoe Cadence," the second track on the soundtrack of Moonrise Kingdom, and helped score, arrange and perform much of the music on the soundtrack and in the film.
Moonrise Kingdom, directed by Wes Anderson, tells the story of a quirky summer romance between two misfit preteens on the fictional wooded island of New Penzance. The film opened the Cannes Film Festival on May 16 and has since garnered critical acclaim from the New York Times, the Los Angeles Times and Rolling Stone.
A representative from Wes Anderson's office contacted Jarvis last September, inviting him to meet with the director and talk about working on his new movie. After meeting with Anderson to watch the film and discuss the scenes in need of his percussion, Jarvis joined other musicians in New York City to record the soundtrack at Electric Lady Studios, the renowned studio originally built by Jimi Hendrix in 1970.
Jarvis directs Connecticut College's Percussion Ensemble and New Music Ensemble and has conducted and performed with numerous orchestras and choruses and toured internationally as a soloist with several new music festivals in Europe and Asia.
Jarvis recently finished recording for the third season of the hit HBO series Boardwalk Empire, appearing this fall.
For media inquiries, please contact:
Amy Martin (860) 439-2526, amy.martin@conncoll.edu
You might also like...