Connecticut College News
Back to Current News
Musicals, monologues and more at Connecticut College this March
02/29/2012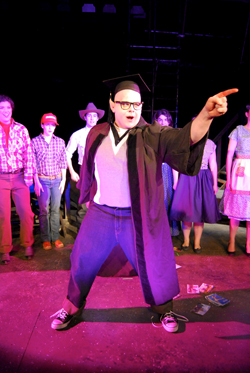 The Departments of Theater and Music present "Bat Boy: The Musical," March 1-4. Photo by Andrew Nathanson '13.
The following events are open to the public and free unless otherwise noted:
Art
- Now - March 9: "Contemporary Art from the Latin World," a Shain Library exhibit of art work from the collection of the Latin Network for the Visual Arts (LNVA). The exhibit features paintings, photography and sculpture from artists in Spain, Cuba, Chile, Mexico, Puerto Rico, Uruguay and Peru. The exhibit is sponsored by Connecticut College's Center for the Comparative Study of Race and Ethnicity and the Department of History. For Shain Library hours, visit www.conncoll.edu/is/hours-and-directions.htm.
- March 1-3: "Aesthetics and Creative Pathways: The 13th Biennial Symposium on Arts and Technology."
For information about public events, visit: www.conncoll.edu/news/7718.cfm.
Dance
- March 31: "onStage at Connecticut College presents AXIS Dance Company,"8 p.m., Palmer Auditorium. One of the most acclaimed and innovative ensembles of performers with and without disabilities, AXIS Dance Company will forever change the way you think about the possibilities of the human body. Tickets are $28, 24 and 20 for general admission; $25, 21.50 and 18 for seniors; and $14, 12 and 10 for students. Call 860-439-ARTS (2787) for tickets and more information.
Music
- March 5: "Connecticut College Concert Band, Jazz Ensemble and Traditional Jazz Band Performance,"featuring a lively assortment of pieces including William Walton's musical setting of Edith Sitwell's "Façade," "Grandpa's Spells" (Jelly Roll Morton), "Cornet Chop Suey" (Louis Armstrong), "Jack the Bear" (Duke Ellington) and "Secret Love" (Sammy Fain), 7 p.m., Evans Hall, Cummings Arts Center. Tickets are $5 for general admission and $3 for students and seniors. For tickets and information, call 860-439-2720.
Theater
- March 1-4: "Bat Boy: The Musical," a production by the Connecticut College Departments of Theater and Music. This theatrical take on the life of a half-human, half-bat character created by the now-defunct tabloid Weekly World News is directed by Peter Deffet. Performances are in the Tansill Theater at 8 p.m. March 1-4, with matinee performances at 2 p.m. on March 3 and 4. Tickets are $12 for general admission and $8 for Connecticut College students. Call 860-439-2605 for tickets and more information.
- March 30-31: "Vagina Monologues,"a Connecticut College student performance of Eve Ensler's international phenomenon. Performances are in Evans Hall, Cummings Arts Center at 8 p.m. on Friday, March 30, and at 2 p.m. on Saturday, March 31. Tickets are $10 for general admission and $7 for Connecticut College students. Proceeds from ticket sales will be donated to the Women's Center of Southeastern Connecticut and the 2012 V-Day Spotlight Fund.
Other Events
- March 4: "Beyond the Playing Field: Careers in Sports," a Sundays with Alumni panel discussion featuring Sam Hopkins '98, associate athletic director for external relations at Dartmouth College; Madeleine Baldwin '10, marketing specialist for team marketing and business operations for the National Basketball Association; and Dana Cialfi '02, tournament manager and marketing director for the New Haven Open at Yale (formerly the Pilot Pen Tennis Tournament); 4 p.m., Cro's Nest, College Center at Crozier-Williams.
- March 6: "Bible for a New Age: Di Algemeyne Entsiklopedye and the Exile of Yiddish," the 2012 Melrod Kraemer Lecture in Jewish Studies by Barry Trachtenberg, associate professor of history and director of the Judaic Studies Program at the University at Albany, State University of New York, 4:30 p.m., Charles Chu Asian Art Reading Room, Shain Library.
- March 6: "Globalization, Italian-Style Immigrants in Contemporary Italian Cinema," a lecture by Vetri Nathan '03, assistant professor of modern languages at the University of Massachusetts, 4:30 p.m., Ernst Common Room, Blaustein Humanities Center.
- March 6: "Synthesis of Chemical Tools: Phosphorylation and Peptide Isosteres," a Chemistry Seminar Series lecture by Bianca Sculimbrene, assistant professor of chemistry at the College of the Holy Cross, 4:30 p.m., Brown Auditorium, Hale Laboratory.
- March 8: "Climate Change and Societal Collapse: Evidence from Ancient Mesopotamia," a Biology and Botany Seminar Series lecture by Alexia Smith, assistant professor of anthropology at the University of Connecticut, 4:30 p.m., Olin Science Center Room 014.
- March 26: "Lip Service: The Upside of Fake Smiles," a Psychology Department Spring 2012 Colloquium Series lecture with guest speaker Marianne LaFrance, a professor of psychology and women's, gender and sexuality studies at Yale University, 4:30 p.m., Silfen Auditorium, Bill Hall.
- March 30: "Silencing Race and Gender in the Cuban Revolution," a lecture by Michelle Chase, professor of Latin American history at Bloomfield College, 11:50 a.m., Charles Chu Asian Art Reading Room, Shain Library. Chase's talk will focus on the relatively unknown story of how women and Afro-Cubans pushed the agenda of Cuba's revolutionary leadership in the early period of 1959-1960.
- March 30: "Documentary Film Screening: The Pervert's Guide to Cinema," 6:30 p.m., Olin Science Center Room 014.
- March 30: "LGBTQ Center and Spectrum Movie and Discussion: 'The Kids are Alright,'" 8 p.m., LGBTQ Resource Center, Burdick House.
For media inquiries, please contact:
Amy Martin (860) 439-2526, amy.martin@conncoll.edu
You might also like...