Connecticut College News
Back to Current News
President Higdon publishes op-ed in Providence Journal
09/19/2012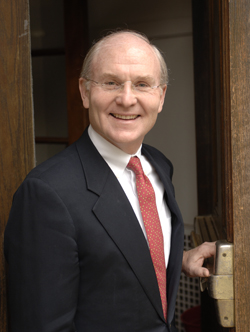 Connecticut College President Leo I. Higdon Jr.
Connecticut College President Leo I. Higdon Jr. shares advice for strengthening the relationships between non-profit organizations and their governing boards in a new Providence Journal opinion piece published today.
"The board relationship is key to an organization's success, including its fiscal well-being and the progress it can achieve," wrote Higdon, who has served on a variety of corporate and non-profit boards in addition to serving as president of three colleges.
Higdon writes that board members should be actively involved in defining an organization's strategic vision and be partners in developing the plans to achieve that vision. In the piece, he offers tips for achieving that relationship, including anchoring board meetings in strategy, educating board members and promoting honest, two-way communication.
This is the 10th opinion piece Higdon has written for the Providence Journal. He has also published pieces in the Huffington Post, the Chronicle of Higher Education, the Hartford Courant, the Philadelphia Inquirer and the Day, among other publications.
For media inquiries, please contact:
Amy Martin (860) 439-2526, amy.martin@conncoll.edu
You might also like...