Connecticut College News
Back to Current News
Robust East Asian Studies program helps feed growing interest in all things China
02/17/2012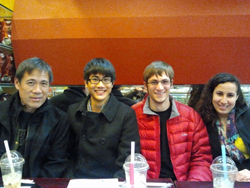 Students in Professor Huang's "No Homeland is Free" class met with famous Chinese American author Russell C. Leong, far left, during a recent field trip to New York City.
Just days before the start of Spring Festival, or Chinese New Year, professor Yibing Huang fielded a call from a Wall Street Journal reporter. The year of the dragon was about to begin, and the reporter was writing a story about why many Chinese and Chinese American couples want to have "dragon babies."
Dragon babies are "the strongest, smartest and the luckiest-supposedly," Huang, a professor of Chinese literature and culture, told the reporter.
Huang says he wasn't surprised by the call. It's just part of a growing interest in all things China, he says.
"China is increasingly occupying the attention of everyone from political scientists to ordinary citizens," he says. "The world has become more fluid, and people are taking a more active interest in Chinese culture."
Huang says China's growing geopolitical importance underscores the importance of the study of East Asian languages and cultures. Connecticut College takes an interdisciplinary approach, mixing language study with courses in history, government, cinema, music and art. (In addition to faculty in the Department of East Asian Languages and Cultures, the College has faculty in other fields with relevant expertise, including a government professor who specializes in the Chinese political economy, history professors who specializes in early Chinese cultural history and early modern Japanese history, an art history professor who specializes in Chinese art and religion and a music professor who is an ethnomusicologist specializing in Chinese music.)
This semester, Huang is teaching two new classes, "No Homeland is Free: Chinese American Literature," which is cross listed with English and American studies, and a 300-level seminar, "Down with the Future: Post-Socialist China and its Cultural Logic."
In "Down with the Future," students are examining the drastic social transition China has undergone in recent years and comparing outlooks for the future by some of the most dynamic and innovative Chinese writers, artists and social scientists. "No Homeland is Free" is an introduction to Chinese American literature and history. Recently, the class took a trip to New York City's Museum of Chinese in America, and Huang says his goal is for the students to become more aware of the contemporary relevance of Chinese immigrants and their descendents.
Chinese Language and Literature major Cameron Ruscitti '13 said the class has already taught him a lot about the important role these Chinese Americans have played in America's history.
"Literature and poetry are excellent channels through which this role can be further explored," he said, citing as an example the poetry that detainees at the Angel Island Immigration Station inscribed on its walls. "Their words of longing, damnation and shattered hope have been frozen in time, as though the walls themselves have been holding their voices for all these years."
He added, "By discussing Chinese American literature and culture, not only do you learn to understand and appreciate a complex and rich cultural heritage, you also begin to understand more clearly the nature of American identity."
For media inquiries, please contact:
Amy Martin (860) 439-2526, amy.martin@conncoll.edu
You might also like...