Connecticut College News
Back to Current News
Student club launches daily bike rental program
10/2/2012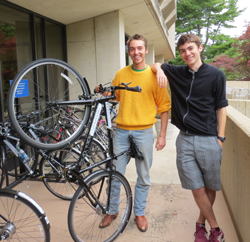 Spokespeople president Tristan Cole '13 and Spokespeople mechanic Jules Tamagnan '16 pose with one of the new bicycles available for rent through the library.
It's a crisp Tuesday morning, and Seth Nigrosh '14 pops into the library. He emerges a few minutes later with a key, and, in seconds, he is riding off on a state-of-the-art bicycle.
"I pulled an all-nighter, and I just want to feel the wind in my hair," said Nigrosh, who was planning to cruise around the Connecticut College campus.
Nigrosh's morning wake-up ride was made possible by "CC Cruisers," a new daily bike rental program run by Spokespeople, the College's student-run bicycle collective. Through the program, anyone with a College ID can check out one of 10 new bicycles at Shain Library for the day. There is no cost for the rental, which includes a helmet and bicycle lock.
The program was launched with a $4,000 grant from the College's Goodwin-Niering Center for the Environment. Thanks to a generous discount from local Niantic Bay Bicycles, the funds were used to purchase 10 Diamondback Bicycles with 8-speed internal geared hubs - new technology that requires less maintenance and makes for a smoother ride, according to Spokespeople president and chief mechanic Tristan Cole '13.
"So far the program has been a huge hit," said Cole. "A lot of people want to have a bike occasionally, but they don't want to maintain and store it. Maybe it is a nice day and they just want to zip around, or they want to run a quick errand off campus. Now they can borrow a bike with little or no concern."
Cole and three other student mechanics maintain the bicycles, and the club is run with the help of a student treasurer and club administrator. Spokespeople also operates a bicycle shop where students can fix and maintain their own bicycles, as well as a long-term loan program through which members of the campus community can rent a donated bicycle for a full semester. So far this year, 35 people have participated in that program, Cole said.
The campus is easy to traverse by bike, since it is relatively flat, Cole added. One problem is the lack of covered storage, but the group is currently working on a proposal for the College's Student Sustainability Grant Program that would allow them to purchase two covered bike racks to place in the most heavily trafficked areas.
"The ultimate goal is to reduce car use on campus," Cole said.
For media inquiries, please contact:
Amy Martin (860) 439-2526, amy.martin@conncoll.edu
You might also like...