Connecticut College News
Back to Current News
Students are atwitter over #Camelympics 2012
10/1/2012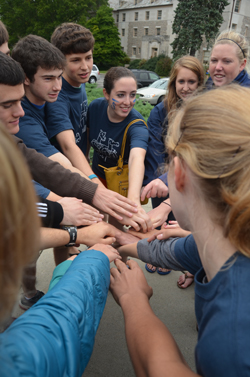 Photos by Andrew Nathanson '13.
It's a day dedicated to friendly competition, residence house pride and childhood favorites like dodgeball, Scrabble and Quidditch. (Okay, maybe you didn't play that last one as a kid). And this year, it was all captured on social media.
Every fall, Connecticut College students come together for Camelympics, one of the most anticipated events of the year. This year, the event was Saturday, Sept. 29. Students from each residence compete as a team, designing a t-shirt, creating a poster, developing a cheer and nominating the best resident competitors to participate in a variety of events, including three-legged races, floor hockey, volleyball and "tug of love." ("Because we don't hate here at Connecticut College," explains Ethan Underhill '15 in a Camelympics video).
At the end of the day, the house with the most victories is crowned Camelympics champion. This year, the highly coveted No. 1 spot went to (drum roll, please): Blackstone House!
In addition to the real-life connections fostered during the day's events, social media played a big role. Students used the hashtag #camelympics and sent in pictures, results and feedback via Twitter and Instagram.
For media inquiries, please contact:
Amy Martin (860) 439-2526, amy.martin@conncoll.edu
You might also like...