Connecticut College News
Back to Current News
Swimming teams ride wave of momentum into NESCAC Championships
02/13/2012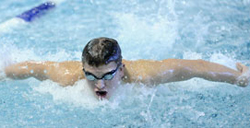 Sam Gill '14, who was recently named Councilman Hunsaker/ Division III National Swimmer of the Week.
Connecticut College women's swimming and diving is ranked 19th in the country heading into the New England Small College Athletic Conference (NESCAC) championship, while the men's team heads into the championship meet ranked 22nd.
The women's team has won eight straight meets for an overall record of 9-3, including wins last weekend over Wellesley College (167-130) and NESCAC rival Bates College (167-127). The women will compete for the conference championship Feb. 16-19 at Wesleyan University.
The men's team boasts a record of 9-2, with its only conference loss coming against Williams College back in December. The men's NESCAC Championship is Feb. 23-26 at Williams.
"Both teams have worked very hard and trained very well," said men's and women's head coach Marc Benvenuti. "I am excited to see our seniors lead the team and to see the underclassmen establish their place in the NESCAC."
Following the men's 169.5-110.5 triumph at Bates College Saturday, sophomore Sam Gill was named Councilman Hunsaker/ Division III National Swimmer of the Week by CollegeSwimming.com. At the meet, Gill won both the 50 and 100 yard fly with respective times of 23.54 and 50.91 seconds, and added a third win in the 100 yard freestyle with a facility-record time of 47.65 seconds. The sophomore standout also assisted on the winning 200 freestyle relay (1:26.84).
"Sam's hard work is paying off," Benvenuti said. "He is swimming faster at this point in the season than ever before and I am eager to see what he can do at NESCACs and NCAAs."
For media inquiries, please contact:
Amy Martin (860) 439-2526, amy.martin@conncoll.edu
You might also like...