Walk to End Homelessness raises more than $11,000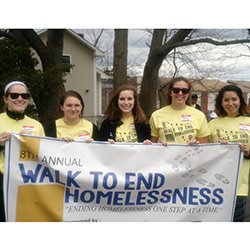 The Connecticut College community joined regional leaders, members of local faith communities, human services professionals and other members of the New London community for the eighth annual Walk to End Homelessness April 26.
The 2.5-mile walk around downtown New London, organized by student scholars in the College's Holleran Center for Community Action and Public Policy as part of the "Public Policy and Social Ethics" course, raised more than $11,000 for the New London Homeless Hospitality Center (NLHHC). The Holleran Center, one of the College's five centers for interdisciplinary scholarship, advances teaching, learning, research and collaboration in order to create more just and equitable communities.
"The walk has been one of my favorite memories as a member of the New London community and Connecticut College," said Molly Rosen '17. "Working on it with my fellow team members, the NLHHC, and the residents themselves was a great way to strengthen the relationship between the town and the College, as well as raise awareness of the issue of homelessness."
Tanya Yachaina, the volunteer coordinator at the NLHHC, praised the student organizers.
"We are very fortunate to have the dedicated support of Connecticut College for our region's homeless," she said. "From the very start, this group showed great organization, creativity and commitment." Yachaina added that the students should be very proud of the results of their work, "from funding raised and community partnerships strengthened — to brightening the lives of our guests with their optimistic and understanding support. "
The NLHHC provides shelter and support services for hundreds of people in southeastern Connecticut who need temporary or long-term assistance. Many Connecticut College students volunteer at the center, some as part of their scholarship in the College's Holleran Center.
---
May 11, 2015