'Embargo' documentary screenings, panel discussion on U.S. embargo vs. Cuba, Feb. 18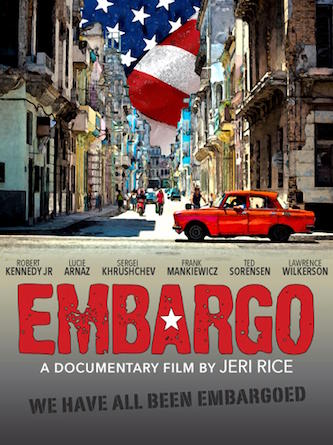 At this moment of change in U.S.-Cuba relations, the public is invited to view the film 'Embargo' and listen to a panel discussion with the filmmaker on Sunday, Feb. 18, in the F.W. Olin Science Center, Room 014. There will be two screenings, at 4 p.m. and 7:30 p.m, with a panel discussion taking place from 5:30- 6:30 p.m.
'Embargo' chronicles the politics and collusion behind the U.S. embargo against Cuba that has persisted unabated long after the end of the Cold War. Through declassified documents and interviews with Robert F. Kennedy, Jr., Sergei Khrushchev, Ted Sorensen and Lucie Arnaz, U.S. filmmaker Jeri Rice seeks to understand a foreign policy that has failed both countries.
The panel discussion includes the filmmaker, as well as Maria Amparo Cruz-Saco, the Joanne Toor Cummings '50 Professor of Economics at Connecticut College; Ricardo Pérez, professor of anthropology and coordinator of the Latin American and Caribbean studies program at Eastern Connecticut State University; and Connecticut College senior Annette Davis.
The History Department and the College's Office of Community Partnerships coordinated the screening and panel discussion with Rice, who will also visit classes on Monday and Tuesday, giving students in several classes the opportunity to share their study of Cuba with experts and engage in scholarly and creative dialogues.
Additional support for the event comes from The Toor Cummings Center for International Studies and the Liberal Arts (CISLA); the Pathways in Power/Knowledge, Global Capitalism, and Social Justice and Sustainability; the Residential Education Fellows (REF) program; and the Department of Film Studies.
For more information, contact Leo Garofalo, lgar@conncoll.edu.
---
February 6, 2018