Greg Bowerman's "Living While Sleeping" exhibition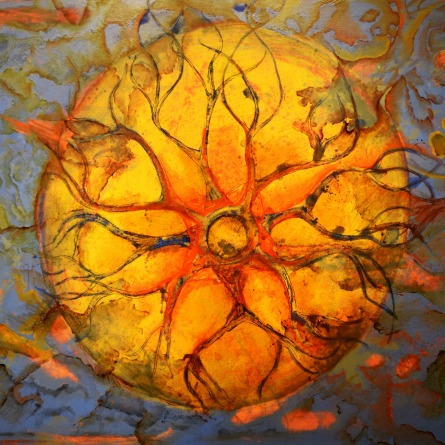 The Connecticut College Art Department presents "Living While Sleeping," an exhibition of paintings and prints by Gregory P. Bowerman. The show will run through October 12 in Cummings Arts Center's Gallery 66. Gallery hours are Monday through Friday 9 a.m. to 5 p.m., and Saturday & Sunday, 1-4 p.m.
"Living While Sleeping" includes small and large paintings on panel, with several in "quadtych" format with four panels arranged in a grid, as well as several cyanotypes, ziatypes, and albumen prints based on the paintings. Simultaneously grand and intimate, Bowerman's lush works are inspired by the loss of a friend and themes of love, hope, and inspiration. Additionally, novels by Turkish author Orhan Pamuk, and films by the Argentinian director Juan Jose Campanella and Alejandro Jodorowsky from Chile stimulated this work. Bowerman cites these artists' "observational details, organization and narrative construction, and metaphorical and mythological imagination" as the starting point for his body of generous works that layer imagery, texture and color. "Living While Sleeping" invites viewers to slow down, observe, reflect and linger.
In a gesture of solidarity with the seven artists participating in "Intersections," the large group exhibition in the Cummings' adjacent Joann Toor Cummings and Manwaring Galleries, Bowerman, too, will offer his works for sale with a portion of the proceeds to benefit New London's Immigration Advocacy and Support Center. There will be a reception for Bowerman and the "Intersections" artists on Saturday, September 23, from 4-5:30 p.m.
Bowerman was born and raised in southeast Michigan, but visited southeastern Connecticut in 1986 and never left. He graduated from the University of New Haven in 1990 and graduated with a second degree in 2001 from the Lyme Academy College of Fine Arts. Bowerman just started his 15th year at The Williams School in New London, Conn., where he teaches art, photography and film, and coaches cross-country.
For more information, contact the Art Department at 860-439-2740 or darad@conncoll.edu.
---
September 13, 2017