"Network Effects," Natalie Bookchin's exhibition of media works, Jan. 22-March 2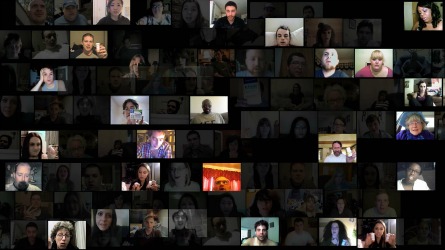 NETWORK EFFECTS, an exhibition in the Cummings Arts Center Galleries at Connecticut College, will open Jan. 22 and run through March 2, presenting media works by Natalie Bookchin made over the past decade on themes ranging from mass isolation and unemployment to the rise of white nationalism in America.
Bookchin is a Brooklyn-based artist whose critically acclaimed films, multi-channel media installations, and online works investigate the seismic impact of the digital tools, platforms, and algorithms that increasingly determine the shape and texture of contemporary life.
Network Effects, which is free and open to the public, is one of the featured exhibitions for the 16th Biennial Symposium on Arts and Technology organized by the Ammerman Center for Arts & Technology at Connecticut College. The symposium, now in its thirty-second year, is a forum for multidisciplinary dialogue at the intersection of arts, technology and contemporary culture.
Bookchin is considered a pioneering media artist and a virtuosic editor who creates mass portraits of the shared self. Her montages are composed of fragments of found videos from YouTube as well as those of her own making and suggest a modern equivalent of the ancient Greek chorus, where ordinary people comment and reflect on the deeds and missteps of society and the powerful.
The exhibition features LONG STORY SHORT, a film that deploys a dizzying multiplicity of frames and voices and features deeply moving, unadorned testimony from over 100 people facing poverty in America. Also on view will be NOW HE'S OUT IN PUBLIC AND EVERYONE CAN SEE, a riveting and racially charged account of an unnamed man, drawn from an archive of video blogger's rantings and musings as they describe, judge, and prescribe the places and positions of black men in America. Other works in the exhibition address the blurred lines between public and private space in our "always on" society.
Additional support for the exhibition is provided by the Connecticut College Studio Art Department and the College's Dayton Visiting Artist Fund. Nadav Assor, is the exhibition's curator. For more information, contact 860-439-2001, or email cat.conncoll.edu.
LONG STORY SHORT
2016. 45 min. Courtesy Icarus Films.
In the moving and immersive LONG STORY SHORT, over 100 people at homeless shelters, food banks, adult literacy programs, and job training centers in L.A. and the Bay Area discuss their experiences of poverty: why they are poor, how it feels, and what they think should be done about American poverty and homelessness today. While individuals whom Bookchin filmed in separate spaces appear on screen in their own visual spaces, mirroring the isolation of their experiences, words flow between them like a musical ensemble. Together in the film for the first time, Americans who are rarely acknowledged or listened to form a virtual collective.
NOW HE'S OUT IN PUBLIC AND EVERYONE CAN SEE
2012/2017. 24 min. Courtesy Icarus Films.
A riveting account of an unnamed man whose racial identity is repeatedly redrawn and contested by masses of impassioned vloggers. This intricately edited, deeply political film explores our new social landscape, one where cascades of disinformation, rumors, and insinuations spread wildly across electronic networks.
"An absolutely staggering work of art ... A stunning reflection of a society that is grappling with the notion of African American men as threats; that there might be places where they should and shouldn't be." - The Los Angeles Times
"Inventive and revealing." - The New York Times
TESTAMENT (4 CHAPTERS) 2009 - 2017
Testament presents a series of collective expressions of the shared self. The series reflects on the peculiar blend of intimacy and anonymity, of the simultaneous connectivity and isolation of contemporary social relations.
MASS ORNAMENT 2009, 7 min.
"With a keen eye for detail, a terrific sense of timing and a killer instinct for editing, [Bookchin] has clipped and combined hundreds of vignettes from YouTube and set them to the soundtracks from Busby Berkeley's GOLD DIGGERS OF 1935 and Leni Riefenstahl's TRIUMPH OF THE WILL. […] To watch the split-screen extravaganza is to feel as if you are at once enjoying a god's-eye view of a vast, everyday parade of vulnerable human beings and also an intimate part of a democratic drama that is deeply moving." – The Los Angeles Times
PARKING LOT 2008, 13 min.
Appropriations from virtual and physical commercial spaces create temporary public space — dismal, endlessly reproduced, anonymous spaces where even creative improvisations can appear mass-produced.
---
January 3, 2018