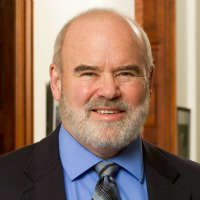 James Norton, Director of Facilities Management, has been appointed by President Katherine Bergeron to serve as Interim Vice President for Administration. Norton serves as the chief administrative and business operations officer responsible for Human Resources, Dining Services, Facilities Management, Campus Safety, Events and Auxiliary Services.
He has served as Director of Facilities Management for twenty years, having recently completed the College's $85 million, 10-year campus improvement effort. The campus-wide renewal focused on restoring campus buildings, roadways, walkways and vistas. The efforts modernized the 100-year-old campus, enhancing the technology in the classrooms and upgrading residence halls. The program included $44 million for construction of a new fitness center and the Zachs Hillel House; renovation of the Science Center at New London Hall; and the modernization of Shain Library.
Norton received his bachelor's degree in engineering from the United States Coast Guard Academy, a master's degree in civil engineering from University of Illinois, and master's in business administration from Hartford Graduate Center. He is a registered professional engineer in Connecticut.