November 7, 2014 | The Experience, Laura Cianciolo '16

On Oct. 29, Connecticut College students stood in solidarity with Emma Sulkowicz, a Columbia University student who is protesting the way her report of sexual assault was handled on campus. Students from the SGA Public Art Task Force, the College's Think S.A.F.E. Project, and the sophomore seminar class "Art of Protest: Occupy ___" collaborated to carry the mattress to different locations around campus every hour and students were encouraged to sign it.
Learn more: Read "#ConnCollCarries: Bringing the #CarryThatWeight movement to campus," a guest blog post by Bettina Weiss '15.
November 6, 2014 | The Experience, Kirsten Forrester '17

Last Saturday, the Hispanic Studies Department hosted a trip to visit the new Goya exhibit at the Boston Museum of Fine Arts. Francisco Goya (1746-1828) is a well-known Spanish painter and printmaker. While I originally associated him with the stiff portraiture of the royal court, I was pleasantly surprised to see the wide variety and versatility of his art. Court culture was merely one aspect of society reflected in his paintings. The influence of the Enlightenment, the Peninsular War, the War of 1812, the American and French revolutions, the church, the Inquisition and much more can be seen within his art; he lived at an extremely interesting time in Spanish history. My favorite is his series of prints, Los Caprichos. A satirical critique of Spanish culture and society, they have a dark humor and informality that contrasts with his paid portraits. Unfortunately, no photography was allowed at the exhibit, but I thought this 7th century glazed earthenware camel from the Sui Dynasty exhibit would make a nice replacement.
November 5, 2014 | The Experience, Rebecca Seidemann '18

In my 18 and a half years, I had never been to a gym.
That finally changed this past month. My friend Brion needed a gym buddy, and I obliged. I was a little hesitant about going with a gym aficionado; in fact, I was a little hesitant about going at all. I've always heard that gyms are intimidating, and I certainly don't know how to use any of the equipment, except the treadmill and exercise bike. I was afraid that I'd walk into the gym and immediately be pegged as a fish out of water.
I was surprised to see a number of students and College staff doing different exercises at their own pace. There were probably a few washboard abs in the room, but it actually wasn't that intimidating. Everyone was paying attention to their own things, and I didn't feel like I was being watched or judged. There was a lot of equipment that I didn't know how to use, but Brion helped with that, as did the handy-dandy instructions on every machine. There was also a lot of empty space in the complex, so it was easy to find some privacy when needed. I also got to use the pool, which was great because I love swimming.
Another bonus element to working out: The gym offers a gorgeous view of the Thames River, so you can try to focus on something pleasant while your pores cry with sweat.
I've come to appreciate our gym in many ways. One of my friends that goes to school in a city was given a membership to a gym a few blocks away as a consolation for the lack of a complex at her school.
Overall, my first trip to the gym was not a terrible experience. Although, for about a week afterward, I could barely walk ... but that's another story.
November 3, 2014 | The Experience, Jordan Thomas '15

Each semester, the College's chapter of Psi Chi, the National Honor Society of Psychology, inducts new members. The mission of Psi Chi is to encourage, stimulate and maintain excellent scholarship and to advance the science of psychology as a whole. Psychology students here are invited to apply for Psi Chi membership if they have achieved a certain level of academic excellence in psychology and have demonstrated a true commitment to the field.
As a member of our chapter's six-person executive board, I assisted in this fall's Psi Chi induction ceremony. Nine psychology students were accepted. During the ceremony, inductees signed a pledge to symbolize their commitment to both our campus chapter and the national Psi Chi organization. New members then lit a candle and recited the organization's mantra: "Honor is the reward of merit."
November 2, 2014 | The Experience, Kirsten Forrester '17

Watching the sun filter through the clouds from an elevation of 4,802 feet is not an everyday experience — unless you're part of the Outdoors Club, that is. Last Saturday, we hiked Mount Moosilauke in New Hampshire's White Mountains. It was a tough four miles up to the top — at least my legs certainly thought so — but there were moments when I stopped to think to myself, "This is incredible." The roar of a waterfall kept us company as we climbed, a grassy clearing at the peak made me feel as if I was in an adventure straight out of "The Lord of the Rings," my breath was visible in the brisk air — all of these things made for a refreshing change of pace in my Connecticut College experience.
November 1, 2014 | The Experience, Alex Breakstone '16

"Hey, is it alright if we call our professor in here?"
After hearing that odd request in the late hours of the night, I continued working on my homework in one of the Cummings Art Center classrooms, sharing the study space with others. Promptly, three girls began video chatting with their art history professor in preparation for a test. They spent the next hour asking questions and having a conversation with the professor.
I had never met these students, but I found it interesting to overhear their deeply intellectual conversation. It was not surprising that a professor put such effort into helping students better understand the subject.
This summer, as I was interning in New York City at a boutique public relations firm, I ran into a past professor of mine, Sunil Bhatia, in the middle of Manhattan and we ended up grabbing a cup of coffee during my lunch break. He was able to provide helpful advice as I continued my internship. Recently, he wrote a recommendation on my behalf for my study abroad application to Milan.
Professors, it seems, have a way of helping to challange and educate students, regarless of where you might run into them or how you might communicaticate with them.
October 31, 2014 | The Experience, Oliver Ames '17

There are hundreds of resources available to students on this campus, but I want to highlight one often-overlooked gem: the Print Shop. Printing on campus is just as you'd expect on any college campus: Send your document to the cloud and download it on any college printer. There are occasional technical issues, of course, but in general, our system means that most students don't bring printers to campus. Because ink and paper are expensive, the College designates each student an allotment of funds each semester for printing costs.
Imagine, however, that you are working on an event and you need to print 30 13-by-19 heavy card-stock posters. Outside of the College, you might have to head down to the local FedEx office or copy center and get them printed for a hefty price. Here, though, we have the Print Shop, and it's just like having a Kinkos on campus.
You can print almost anything under the sun, right from your College account or your club's fund. As part of the student-run TEDxConnecticutCollege organization, I have huge print jobs to manage nearly each week. Sometimes, I need glossy posters or postcards to stuff mailboxes. Other times, I need large, vinyl banners to hang to advertise our latest event.
Whatever the need, the Print Shop succeeds and the staff is knowledgable and understanding, particularly about the occasional rush jobs students need. As a bonus, the shop is only a few hundred yards from my dorm room.
October 31, 2014 | The Experience, Kirsten Forrester '17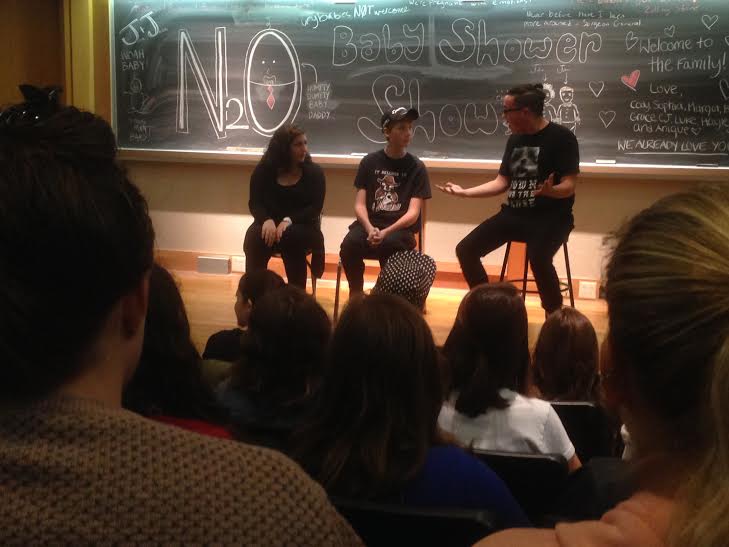 N20 is nitrous oxide, or laughing gas. Fittingly, it's also the name of a Conn College improv group, one of two we have on campus. Last Friday, the group hosted a "baby shower" performance to welcome their new members ("babies,") John and Julia. The group played a variety of humorous short games and I couldn't stop laughing. It was fun to see my peers and friends perform on stage so effortlessly.
October 30, 2014 | Guest Blogger | Guest Blogger

Occasionally, The ConnCollegeLive Experience will invite guests to blog about their experiences as a Camel. Today, Bettina Weiss '15 contributes to the guest blogger series.
On Oct. 29, Connecticut College students participated in a National Day of Action inspired by the art and activism of Emma Sulkowicz, a student at Columbia University. Sulkowicz has been carrying a 50-pound mattress wherever she goes on campus for her senior art thesis. The New York Times calls Sulkowicz' project "an artwork of last resort."
In 2012, Sulkowicz filed a complaint with Columbia after an alleged sexual assault. Her complaint led to a hearing before a panel that found the alleged perpetrator not responsible. This decision was upheld upon appeal. Sulkowicz brought her case to the police but decided not to follow through after the report. She began carrying her mattress around campus to protest the fact that her alledged attacker was allowed to remain enrolled at the university.
In response to Sulkowicz' project, the coalition "Carrying the Weight Together" was formed by students and activists who are working to support survivors of sexual and domestic violence. It is made up of members from No Red Tape, Carrying the Weight Together at Columbia University, Hollaback! and Rhize.
When students at Connecticut College heard about the National Day of Action to support Sulkowicz, we sprung into action. Sal Bigay '16, the Student Government Association (SGA) chair of residential affairs, brought the idea to our SGA and began planning with the Public Art Task Force subcommittee. Members of SafetyNet, a peer education group within the Think S.A.F.E. (Sexual Assault Free Environment) office were brainstorming ideas on how to bring the movement to our campus. At the same time, the sophomore seminar class "Art of Protest: Occupy ___" was also inspired to bring the movement to campus. In a phenomenally successful collaboration, all three groups came together to organize our College's participation in the day of action. Representatives from each group met, and off we went. "This is how things need to happen at Connecticut College: authentically and passionately," said Bigay.
October 29, 2014 | The Experience, Mike Wipper '17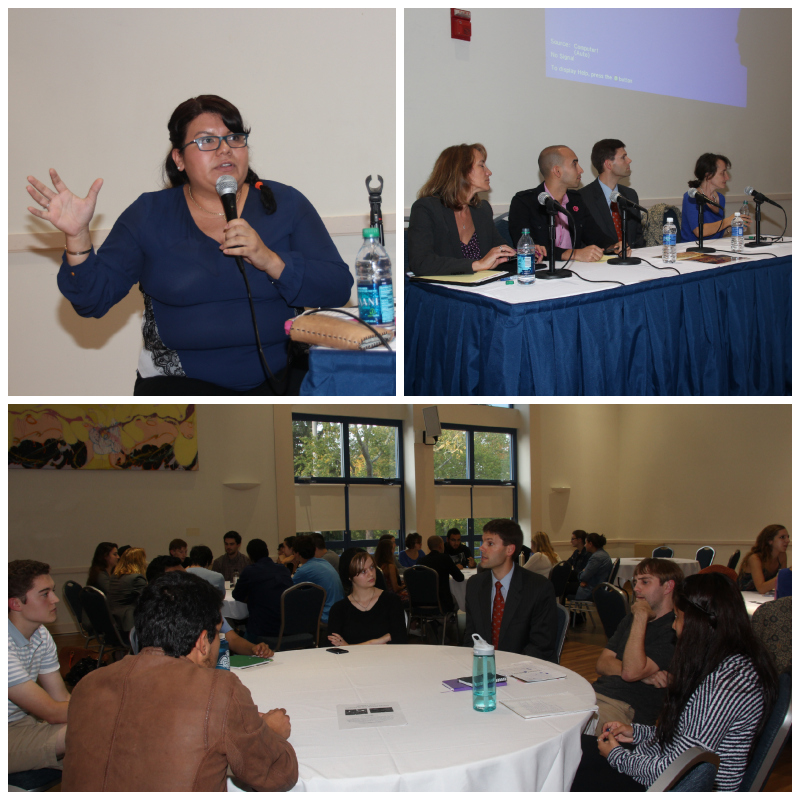 Recently, professors, community activists and service members from our neighbors at the U.S. Coast Guard Academy recently met with Conn students to discuss a wide range of topics related to immigration in the United States. After giving a brief description of their role in the issue, the panelists met with students to hear their perspectives on immigration in a more casual environment, fostering dialogue and sharing of ideas. I spoke with Dr. Evan Haglund of the Coast Guard Academy. Working as a consular officer at the American Embassy in Ghana, Dr. Haglund was able to offer a unique perspective on being on the front lines of the immigration process into the United States. It was a great experience to have roundtable discussions with people holding such varied backgrounds and experiences with immigration.
<< < 1 2 3 4 5 6 7 8 9 10 11 12 13 14 15 16 17 18 19 20 21 22 23 24 25 26 27 28 29 > >>