October 7, 2014 | The Experience, Rebecca Seidemann '18

As part of my two-dimensional art class, I recently participated in the Art Department's seventh annual charcoal drawing marathon this past Sunday. Our assignment was very broad: We were told to use a variety of shapes, color tones and depth to fill the very large, intimidating blank pieces of paper in front of us. Between 9 a.m. and 4 p.m., we drew without stopping. We had no specific subject to work with, we simply had to respond to our environments and the music that was playing.
The presiding art professors encouraged us to think of our pieces as completely mutable. We were encouraged to draw over things, erase our work and paint over large sections of our pieces to work, then rework, the charcoal. As someone who has taken many art classes, the process was a challenge. I'm used to crafting my pieces carefully, focusing on intricate shading and minute details. Inevitably, I get attached to my art and I'm reluctant to change anything more significant than those tiny details.
This experience made me explore a very different technique: a "kill your darlings"-type of technique, where you have to get rid of some of the bits of your work that you're attached to in order to improve the piece as a whole. While this was difficult, it helped me loosen up and go with the flow of things.
By the time 4 p.m. arrived, it seemed that there was more charcoal on my face, hands and arms than on my actual canvas. Despite the mess and a very sore drawing arm, I was very happy with my piece. Looking around the room, I was pleased to see that others found the process — and final results — to be successful.
October 6, 2014 | The Experience, Kirsten Forrester '17

Last week, Fresh Check came to campus for a day. Fresh Check is an organization that travels from college to college, promoting mental health awareness. Booths included Love is Louder Than, a project emphasizing the positivity of love and healthy relationships; Be Yourself, a project that encourages self-acceptance in the LGBTQ community; and Paint Your Art Out, a project that sponsors art as a means of self-expression and stress reduction. These booths and others filled Tempel Green with information and activities about the issues and available resources regarding mental health.
This photo comes from my 9 Out of 10 Pledge. One out of 10 college students contemplates suicide, but nine out of 10 college students can serve as sources of support and education. My signature, the light blue one in the center of the photo, is my pledge to help take action if a friend or peer may be struggling.
October 6, 2014 | The Experience, Anique Ashraf '17

Following the success of a community discussion about issues of race in Ferguson, Mo., our Office of Residential Education and Living (REAL) decided to continue the conversation, this time bringing the discussion closer to home. The event, titled, "How Not to Talk About Race at College," included a panel led by professors Sunil Bhatia (human development), David Kim (religious studies), and Rosemarie Roberts (dance), as well as students Ramata Diallo '17 and Maurice Tiner '17. The discussion sought to answer a number of questions: Why do conversations on race become deadened in the classroom and amongst students? What is that block that's created that prevents people from expressing their feelings? How do we generate a more open environment in which race can be talked about, not as an abstract concept but as a real, human experience that a lot of people have to deal with.
I don't know if the panel completely answered all these questions, but the audience was spirited and engaged on that Wednesday evening. As 70 students and faculty members informally gathered in a circle, students shared personal stories about experiencing racial prejudice in their lives.
The event was illuminating on so many levels. After the event ended, I was approached by a professor I'd never met — she teaches French and Africana studies, departments I've never taken courses in. She stood next to my friend and I, put her hands on our shoulders and told us that although she had to run, she'd love to continue the conversation, passing along her name and email address. David Kim also made himself available after the panel so students who didn't have a chance to speak would be able to in a more personal way.
Professor Audrey Zakriski from the Psychology Department had some choice words to say about approaching one's own racial biases and confronting them, and Dean of the College Caroline Denard proposed a "color-brave" narrative performance piece, that would bring together art, dance, music and monologue to share stories about discrimination and acceptance. Another student proposed "issue-tables" in the dining halls where you could move to and from different topics of discussion. I suggested there be a disclaimer in every class' syllabus about any incident of prejudice a student might face and a third party to contact — just as the syllabus already has an addendum about sexual misconduct, resources available in the Office of Accessibility, and the drug and alcohol program.
On our campus, the difficult issues of sexual violence prevention, disability and personal health are already part of conversations we have openly and often. The leaders of offices that work with students on these topics are are incredibly engaged, and are often on a first-name basis with most of the campus, helping to create a lively, open and honest community. This event was an attempt to do the same with issues regarding race.
October 5, 2014 | The Experience, Rebecca Seidemann '18

As I write this, it's the first day back from Fall Break. Many of my friends were excited to go home for the long weekend, specifically to see their various breeds of furry creatures. I wanted to see my family, swap stories with my friends and, most of all, have my bedroom to myself. Having roommates is fun, but being back in your own room is definitely a welcomed bit of quiet.
Despite the immediate comfort of being home, I found myself missing Conn. I missed being able to roam around the campus, having food available to me at (almost) all times of the day and seeing all the familiar faces. Part of me felt like I didn't fully belong at home. I've now spent a month here on campus and, in that time, I've made a new friendships and experienced so much that's new and different. It makes sense that, at least partially, Conn is becoming my home more and more.
After a brief weekend away, I'm back home at Conn. Sure, I have homework, tests and, yes, I'm again sharing a room. But I'm happy to be back in the routine here.
I'm also happy to have access to the abundance of ice cream in Harris once more.
October 4, 2014 | The Experience, Kirsten Forrester '17

Last weekend was Fall Break. I grew up in Vermont, only a few hours north of Conn, so I usually head home for a few days. This year was different, however, as I brought along friends from Idaho, Texas and Ecuador who would have otherwise been staying on campus. As close friends, they know my family makes maple syrup. (I keep an emergency supply in my dorm room and bring it to Harris for pancakes, French toast and waffles.) So, not surprisingly, their very first question was, "Can we go sugaring?" Much to their disappointment, sugaring, the process for making syrup, takes place in the spring.
Nevertheless, I dutifully played the role of tour guide, and introduced them to all the "Vermonter-y" things to do in the fall. We hiked Camel's Hump (and appreciated the humor in doing so), picked apples at a local orchard, baked an apple pie (with the picked apples), devoured cider donuts, went to Ben and Jerry's and admired the wonderful view of Lake Champlain from downtown Burlington.
September 30, 2014 | The Experience, Kirsten Forrester '17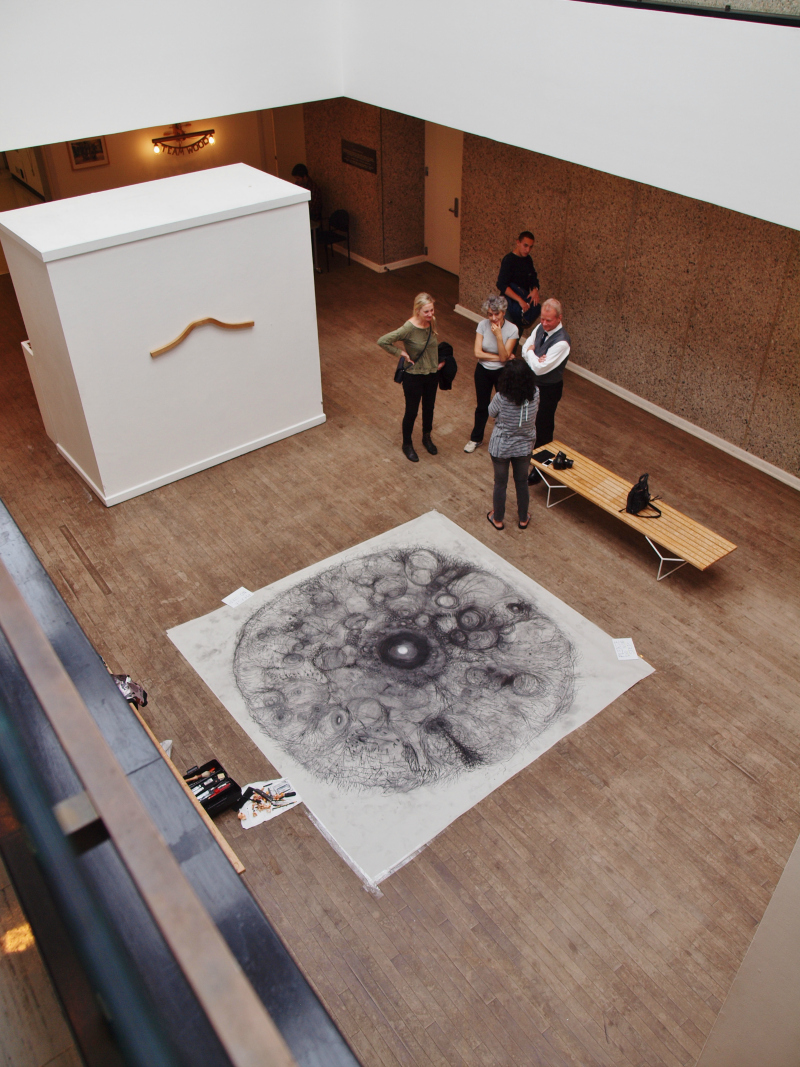 Visiting Italian artist Paola Ricci has, quite literally, taken over the first floor of Cummings Arts Center. For three days of last week, she worked on an experimental piece: a large drawing taped to the floor that represents her interpretation of the universe. Her performance art has inspired and intrigued students and professors passing by, and a number of classes interacted with and watched her work progress.
September 29, 2014 | The Experience, Dana Sorkin '16

Each year, Camelympics pits residence houses against each other for a day of spirited competition. There are so many different ways to participate, and I decided to represent my house, Windham, by playing Connect Four. I came in second place. Windham came in second place in the overall competition, ending the daylong event in style.
September 28, 2014 | The Experience, Jordan Thomas '15

Camelympics is a Connecticut College tradition that pits residence houses against one another in friendly competition. House residents compete in events that range from volleyball to Quidditch and from Apples to Apples to Bananagrams. All houses have a theme, a cheer and a team shirt. It's a great event that promotes both house and Camel spirit!
September 27, 2014 | The Experience, Rebecca Seidemann '18

In the last week, I've noticed some unusual additions to Cummings Arts Center on campus. First, a wooden chair appeared in the middle of the lobby. The next day, another chair appeared. Then a table. Then an embroidery wheel with felt letters sewn onto it that read, "I *heart* BEING A MAN." Strange, I thought.
I soon learned that all of these installations were part of an upcoming art show, "Welcome to Hard Times," by artist Dave Sinaguglia, an adjunct professor here at Conn. I attended the opening of his exhibition, which included a lecture, and came to appreciate his artwork much more.
Before attending Dave Sinaguglia's talk, I was unaware of the depth of his work, most of which is commentary on masculinity. I gathered as much from the embroidery wheel, but I didn't really know the context. Dave Sinaguglia explained that he was raised in a very "stereotypical" family in terms of gender and familial roles. Now, he uses tongue-in-cheek concepts to push the ideas associated with gender. For example, one of his projects involved living alone in a homemade log cabin. While building the cabin, he made sure to wear flannel and pose with power tools (as stereotypical "manly men" do). Another one of his carpentry projects was titled "My trouble with women, is my trouble with Music, I love this one song, I listen only to it. For weeks, I never stop loving it — I just stop listening."
This gender aspect of Dave Sinaguglia's art is very interesting because it's an atypical take on a very "complicated topic," as Sinaguglia called it. Of course, this is not the only characteristic of his art projects. They also deal with ideas about socialization versus isolation, independence and precision.
I'm glad that I was able to attend the gallery opening. It offered some new perspectives on gender and got me thinking about other innovative ways in which people can express ideas through art.
September 26, 2014 | The Experience, Mike Wipper '17

My friends Jasmine Massa '17 and Alissa Siepka '17 catch up on some work while enjoying a beautiful day on Tempel Green. It's one of the most active places on campus, where you can work, play and relax ... or do all three at the same time.
<< < 1 2 3 4 5 6 7 8 9 10 11 12 13 14 15 16 17 18 19 20 21 22 23 24 25 26 27 28 > >>