September 29, 2014 | The Experience, Dana Sorkin '16

Each year, Camelympics pits residence houses against each other for a day of spirited competition. There are so many different ways to participate, and I decided to represent my house, Windham, by playing Connect Four. I came in second place. Windham came in second place in the overall competition, ending the daylong event in style.
September 28, 2014 | The Experience, Jordan Thomas '15

Camelympics is a Connecticut College tradition that pits residence houses against one another in friendly competition. House residents compete in events that range from volleyball to Quidditch and from Apples to Apples to Bananagrams. All houses have a theme, a cheer and a team shirt. It's a great event that promotes both house and Camel spirit!
September 27, 2014 | The Experience, Rebecca Seidemann '18

In the last week, I've noticed some unusual additions to Cummings Arts Center on campus. First, a wooden chair appeared in the middle of the lobby. The next day, another chair appeared. Then a table. Then an embroidery wheel with felt letters sewn onto it that read, "I *heart* BEING A MAN." Strange, I thought.
I soon learned that all of these installations were part of an upcoming art show, "Welcome to Hard Times," by artist Dave Sinaguglia, an adjunct professor here at Conn. I attended the opening of his exhibition, which included a lecture, and came to appreciate his artwork much more.
Before attending Dave Sinaguglia's talk, I was unaware of the depth of his work, most of which is commentary on masculinity. I gathered as much from the embroidery wheel, but I didn't really know the context. Dave Sinaguglia explained that he was raised in a very "stereotypical" family in terms of gender and familial roles. Now, he uses tongue-in-cheek concepts to push the ideas associated with gender. For example, one of his projects involved living alone in a homemade log cabin. While building the cabin, he made sure to wear flannel and pose with power tools (as stereotypical "manly men" do). Another one of his carpentry projects was titled "My trouble with women, is my trouble with Music, I love this one song, I listen only to it. For weeks, I never stop loving it — I just stop listening."
This gender aspect of Dave Sinaguglia's art is very interesting because it's an atypical take on a very "complicated topic," as Sinaguglia called it. Of course, this is not the only characteristic of his art projects. They also deal with ideas about socialization versus isolation, independence and precision.
I'm glad that I was able to attend the gallery opening. It offered some new perspectives on gender and got me thinking about other innovative ways in which people can express ideas through art.
September 26, 2014 | The Experience, Mike Wipper '17

My friends Jasmine Massa '17 and Alissa Siepka '17 catch up on some work while enjoying a beautiful day on Tempel Green. It's one of the most active places on campus, where you can work, play and relax ... or do all three at the same time.
September 26, 2014 | The Experience, Oliver Ames '17

As a sophomore, I'll soon need to declare my major. At the beginning of this year — only three weeks ago — I was panicking, trying to pinpoint an answer to the question, "What interests you?" Before the summer started, I thought I had my plans worked out but, suddenly, I wasn't so sure. When I began to feel unsure about the path I was taking, I turned to almost every professor I had ever connected with. I received incredible support, and I'm again confident in my next steps.
Professor of Physics Leslie Brown had some great advice for me. She listened to my concerns about my challenges with physics. I had begun to feel that lab work, which lacks communication, was too dull and the classroom felt too conventional. "Doc" Brown suggested that I continue to minor in astronomy but think about self-designing a major that incorporates multiple areas of physics and science education, which made me think further about the possibility of also pursuing the Museum Studies Certificate program. I quickly set up an appointment with the program's director, Professor Chris Steiner, and he welcomed the idea of a science-oriented person joining the program. Doc Brown and Professor Steiner also connected me with staff at the Treworgy Planetarium at the Mystic Seaport, only a few miles away, so I could include practical work into my self-designed education.
In a matter of weeks, I have gone from panic to excitement, feeling like I once again have a strong path to follow. At the moment, it looks like the education plan I'm developing will include a self-designed major in science education, a minor in astronomy and a certificate in museum studies, along with volunteer work at the planetarium. With help from my professors, I've bent the definition of museum studies and altered the stereotypical path of a science student to fit my own interests in a hands-on and unconventional way.
September 25, 2014 | The Experience, Calli Reynolds '17

People spend four years at college exploring many different paths but, at Conn, these years are also spent learning how to be a Camel. There are many ways to embrace your Camel identity, connecting with your peers and your community. The number of ways to spend time are plentiful, including playing sports, volunteering in the community or joining student clubs and activities.
Last year, my first year at Conn, I joined a few clubs. I went to several meetings and decided what worked and what didn't. By the end of the year, not only had I found groups and causes that I cared about, but I had taken leadership positions for the upcoming year. I've become an active member of Umoja — the Black Student Union — and I've met close friends in the process. I also attended Green Dot training, a program dedicated to ending sexual assault and power-based violence on college campuses. I'm also now the vice president of Eclipse, an annual, student-produced dance show.
Now, I have a chance to represent these clubs — the activities that I love so much and that helped me feel at home here — publicly as a spokesperson at the annual Student Involvement Fair. I distinctly remember the fair from my first year and how that one event helped me choose my path. Leading up to this year's fair, I was excited to be on the giving end of the process, helping new students find their passions and activities.
Something surprising happened: I found myself signing up for new clubs, as well. A good walk through the fair presented clubs and groups that I hadn't seen before, along with activities I had previously overlooked. I'm someone who loves to be active and have lots do to over the course of a week. As I go through my four years, I will probably join more clubs, change the activities I'm involved in and find other ways to be involved on campus. That's part of the joy that comes with finding a Camel identity.
September 24, 2014 | The Experience, Kirsten Forrester '17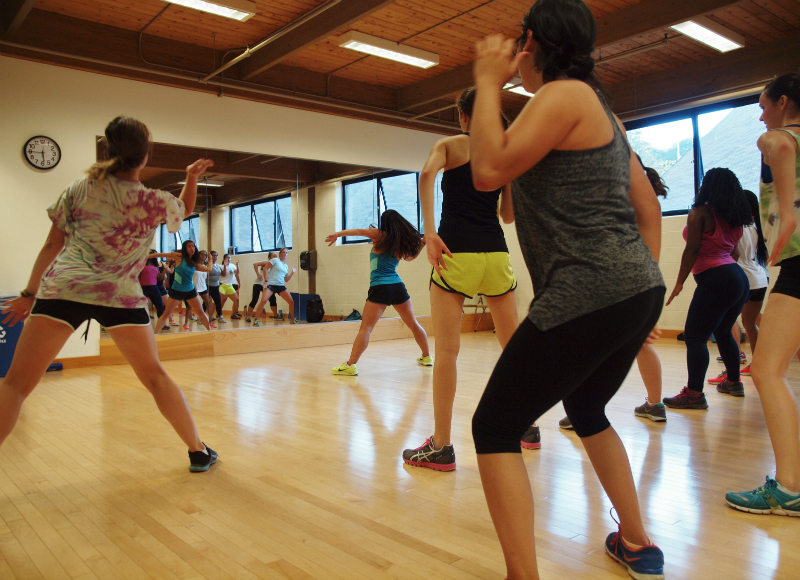 Every Tuesday and Thursday, my friends and I head to the Athletic Center for dance fitness class, also known as Zumba. Dancing along to Shakira's "Waka Waka" or Nikki Minaj's "Pound the Alarm" is probably the most fun way to stay active.
September 23, 2014 | The Experience, Rebecca Seidemann '18

I recently attended my first Camelympics. You may be wondering, "What on earth is Camelympics?!" Imagine if the Olympics were held on a college campus and included activities like board games and hula hooping. That should give you the gist of Camelympics. Different houses compete in games to get points and, at the end of the day, only one house is declared the winner — a coveted title.
Of all the activities I found myself participating in — including Apples to Apples and Catch Phrase — Quidditch was certainly my favorite. I lack the coordination usually required for sports but, as a huge Harry Potter fan, I volunteered to play. I was the Keeper (basically, a goalie) for Johnson House, and our house ended up winning fourth place.
At the beginning of the game, no one was quite sure how the game would work when the brooms did not begin to fly. The confusion was brief and, after the first round of games, people started getting very into it. There was a lot of cheering, a lot of running, a little bit of tackling and a dash of screaming to distract opponents. Players also started growing attatched to their positions. The passion for Quidditch that developed over the course of roughly 20 minutes was pretty surprising.
The most entertaining part about Quidditch is how the role of the Snitch is adapted when playing without magic. In Harry Potter, the Snitch is a little golden ball that, when caught, ends the game instantly. In Muggle (non-magical people) Quidditch, the Snitch is a bystander who volunteers to wear a yellow shirt and run around campus to avoid being tagged by the Seeker. In one of the final games, as the Snitch was about to be caught, he tripped and fell. As others jumped over the Snitch to avoid landing on him, the opposing Seeker snuck up from behind and fell onto the Snitch, winning the game. It was surprisingly intense.
Camelympics may be about fun and games, but there was true competition amongst Camels. There was a very strong sense of community. As houses came together, there was a chance for students to intermingle and meet one another, and the traditional event also gave me the chance to act out my favorite, magical sport.
September 23, 2014 | The Experience, Anique Ashraf '17

"One, two, three, four, one, two, three, four …" The voices are in unison. I stare around me; these are the people I've known for a year. We've met three times every week in the College Center at Crozier-Williams to practice improv. We're N2O, the short-form improvisational comedy group at Connecticut College and it's our first show of the year.
The warm-ups are done and the rituals begin: we sit in a circle and talk, and have quiet moments to prepare. Each one of us is nervous — this is also our first combined show with the long-form comedy group on campus, Scuds. A lot rests on this show because we have auditions the day after and we want a good turnout. We want some of the spectators to show up because the people who often think they're not funny are actually the funniest.
I joined N2O last year in the beginning of September. I heard about the auditions from a friend and almost didn't make it. In those first few days after Orientation, you run around like a headless chicken and want to join everything — and that's good, because that's how you discover things you never knew you were good at. How was I to know that my inherent awkwardness and desire to engage with even the most minor of things would translate to improv? I got to the auditions, however, and I was scared. So many people were so good. The members of the group were informal, though. They could have been ruthless but instead, they were the kindest, nicest people I'd met yet. I got called back and I joined improv.
Joining a club is not just a time commitment, it's a commitment of spirit. In an English seminar I'm taking this semester, "The Teaching of Writing," I had to analyze my own writing process in a fair amount of detail. When I got to the end of the paper, I realized that my writing is influenced by improv. I'm committed to the principles of "yes" "and" (agreeing and adding on, to make the scene work) and it's honestly made me a better writer and storyteller. Even in my personal life, improv has made me more direct, but also better able to engage with the absurd and the fantastical. Between the number-counting and the limb-shaking of a warm-up before a show, I feel immensely glad that I tried something completely new and it paid off.
September 22, 2014 | The Experience, Rebecca Seidemann '18

"Put on some gloves and grab a brain." Those were the words I heard my instructor say as I walked into my Psychology 100 lab today.
Yes, today we dissected brains. "Whose brain?" a friend asked before lab. "Do you remember the guy who used to live across the hall?" All humor aside, though, the lab was quite interesting. (It was the brain of a sheep.)
Working in pairs, we located some of the outer parts of the brain, a process which involved cutting the item in half. I felt surprisingly grown up, using the scalpels, dissection scissors and various sharp, scientific tools we had been given. As we cut open the brains, the thalamus, hypothalamus and corpus collosum all became visible. These are structures found in the center of the brain, which some of you "brainy" readers probably already knew.
I'm sure some students might have found this lab slightly nauseating, but, as a psychology major, I thought it was fascinating. My psychology professor walked around and helped when necessary, but for the most part we were given freedom to figure things out on our own. It was a vastly different experience from my previous high school science labs. After hearing about various brain structures in the course's lecture, we were able to match functions and locations during the lab. Suddenly, the concepts became less abstract. It sounds utterly cliché, but today's class made learning fun.
After dissecting brains on day two of the lab, I have very high expectations for the rest of the year.
<< < 1 2 3 4 5 6 7 8 9 10 11 12 13 14 15 16 17 18 19 20 21 22 23 24 25 26 27 28 29 > >>