May 9, 2014 | Sust Blog, Alexis Cheney '16 | The Experience, Alexis Cheney '16

Floralia, our spring festival, kicked off a day earlier than usual with a 5K color run last Friday afternoon. My friends and I threw on our white T-shirts and met at the back of Cro, the student center. We joined a giddy, lively crowd as music pumped-up the runners. Clouds of colored chalk powder already floated through the air as we dipped our hands into buckets and threw globs of it at each other.
Moments later, the race began and we were off on a course that took us all around campus, even to places I hadn't known existed. (As we looped around the Lyman Allyn Museum, on the south end of our campus, I realized there was a stone mushroom garden. Who knew?!) As we ran past different intersections on campus, members of campus organizations, including Student Health Services, the Think S.A.F.E. Project, Student Activities Council and others, threw colored powder at us. We blindly ran through the clouds of color, which added to the thrill of the run.
My friends and I were having so much fun that, before the run had even ended, we talked about our plans to do it again. We had to pause our conversation, however, when we encountered obstacles such as low-crawl nets, hurdles, and a stone wall. Though the quirky, unexpected obstacles bore no resemblance of my usual 5Ks from the cross-country season, the hills certainly did. My friends and I agreed that the color run would beat a cross-country race any day. There's just no competing with color.
May 7, 2014 | The Experience, Calli Reynolds '17

Eclipse is one of the longest-running student-produced events at Connecticut College. For over 40 years, students have been coming together to showcase their talents as a means of raising cultural awareness. This year, Eclipse returned to its roots by taking place over the course of an entire weekend. As a new student on campus, being a part of something so historic was empowering and felt quite amazing. I have quickly found myself helping to pull off a spectacular weekend.
Thursday: the cast dinner
On the Thursday leading up to the big weekend, the entire Eclipse cast took over Harris, our main dining hall. The tables in the dining hall were covered with information and music filled the room and set an upbeat mood. Yes, there was even a flash mob which was surely my favorite part of the dinner. I was tasked with controlling the music. When you have a full dining hall and you are the one who cuts the music playing to change the song, everyone notices you. They also notice when you fall off of your chair trying to find the right track. As an Eclipse member, I certainly felt ready for what the weekend had in store.
Friday: the fashion show
For the first time in many years, a fashion show was reintroduced to the Eclipse program. Although 120 seats were set up, almost 200 people attended. They cheered for the models who -- let me tell you -- looked better than the models from New York Fashion Week. Clothes were made, donated and borrowed for this show and all of the collections were flawless. The fashion show also included the Kporma Collection, a cause that works to better educational options in rural Liberia. From our one event, Kporma representatives raised enough money to start building schools.
May 7, 2014 | The Experience, Marina Stuart '16

This past weekend was the track team's annual home meet. Each year, we host one meet -- The Silfen Invitational -- and it's always a big day. For once, we don't have to wake up early and take a bus somewhere. Instead, eight other colleges travel to New London! By having the meet at home, it's an opportunity for our families and friends to see us compete and support our team.
I had more family at this week's meet than I would have ever expected. Since the Invitational coincided with Easter, my Philadelphia-based family was visiting and they were able to spend time in New London cheering me on. One of my cousins had never been to a meet before, so it was a great experience for her.
I just loved that my family could see me pole vaulting, doing something that I love. Best of all, they got to see Camels win!
May 5, 2014 | The Experience, Dana Sorkin '16

Napkin Notes at Conn are a unique way for students to let know how they're feeling about the food. Almost every note gets a response from the staff. While Dining Services can't always accommodate everything, like my friend's request to have our famous chocolate chip cookies at every meal, but the staff is usually able to find a way to make sure the majority of the requests are met.
May 5, 2014 | The Experience, CJ Robinson '16

Being able to engage in conversations with other students about critical worldly topics is something that I have learned to appreciate here at Conn. I am a student who has educated himself since freshman year about domestic violence and sexual assault awareness through training offered here at the College. It has been an eye-opening experience that I've been able to share with my peers through dinners, outings on the greens and just conversation in passing. This week I added even more training to my skillset, in part because April is sexual assault activism awareness month.
I completed training for the 10x10 program, by Safe Futures, a New London-based program that works with the community on sexual assault education. The training helped me start conversations with other men about activism and gave me the courage to act in situations where it can be tough to speak up. Programs brought to the College, like 10x10, also create safe spaces for learning about difficult issues from various perspectives. Ultimately, by having access to these moments of activism, I find opportunities to give others the same courage I now have.
May 2, 2014 | The Experience, Kurt Reinmund '15

Kurt Reinmund, a videographer for the ConnCollegeLive Experience, is currently spending this semester abroad. He is studying at the CET Film Production program and producing a movie through the FAMU film school in Prague. Kurt took a moment to write about his experiences away from campus.
"Dobrý den. Jsem Kurt. Promi?te, nemluvím ?esky." In case you do not speak Czech, I just said, "Hello. I am Kurt. Sorry, I do not speak Czech." After living in Prague, Czech Republic for the past three months and taking Czech language classes twice a week since my arrival here, I'm embarrassed to admit that those three sentences are the extent of my Czech speaking abilities. I did not come to Prague to learn a language that only 10 million people speak; I came here to make a film.
As a film studies major with a concentration in production, I knew I wanted an abroad program that allowed me to make film. It turns out, making a film in a foreign country whose language I don't speak is extremely difficult and often times awkward. My film is titled Jirí, and the actors and crew in my film spoke about as much English as I speak Czech. Luckily, I'm a master of the "point-and-grunt" technique when trying to tell Czech people what I want, so I found a way around the severe language disparity. For example, if I point and grunt at the couch while making eye contact with an actor, that means I want him or her to walk to that couch. The "point-and-grunt" technique is universal; Francis Ford Coppola used it when filming Apocalypse Now.
I have not spent all of my time relentlessly working on my film; between my numerous meetings with very important film people, I have found some time to explore the city in which I live. Upon first arriving in Prague, I noticed that no building, church, park bench, traffic sign, nor playground was safe from the copious amounts of graffiti that plagued this once-Communist city. But as the weeks flew by, I realized that the graffiti is what makes this city so delightfully unique. While some people may see the graffiti as vandalism, I choose to believe that the graffiti serves as a rebellious reminder to the Czechs that they are no longer under Communist rule. While this belief may just be one of my pretentious theories, there must be some reason why the city does not clean up the graffiti, and I do not think it is out of laziness.
I only have a few weeks left here in Prague before I return to the States, and I must say that I am going to miss this city. Prague may be a permanently overcast city with people who never smile, but there is an irrefutable energy here unlike any I have ever seen. Founded in 1993, Czech Republic is still a new country. I know I've only lived here a few months, but I can tell that the Czech Republic has a very bright future ahead of it. I'm just glad I was able to capture its culture on film.
‌Kurt poses with his star actor, Miroslav Hrabé

May 1, 2014 | The Experience, Laura Cianciolo '16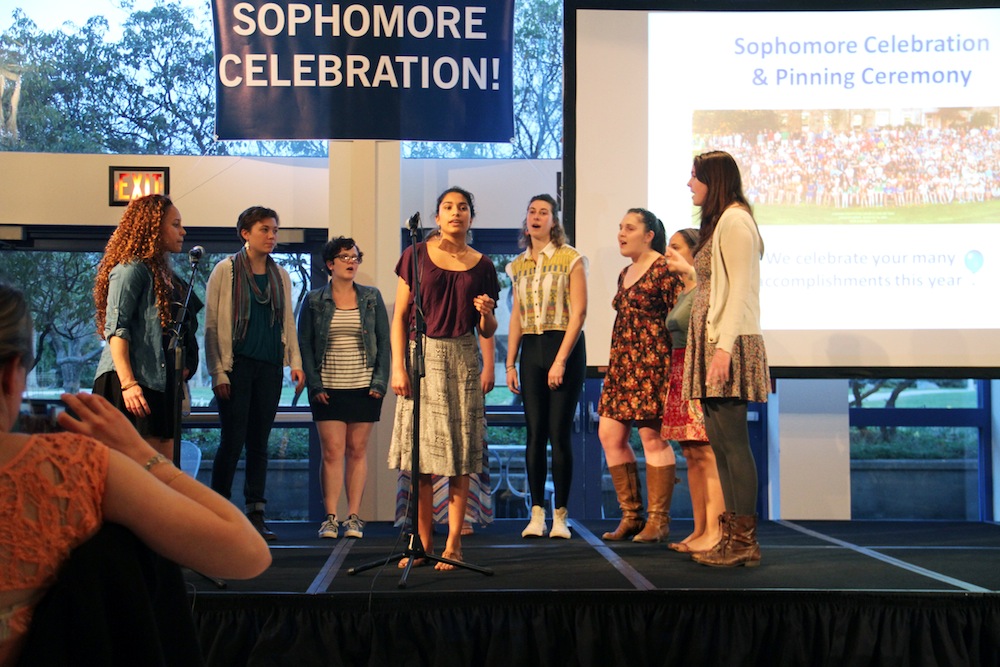 On Monday, hundreds of sophomores attended the first ever Sophomore Pinning Ceremony. The night was filled with dessert, speeches and recognition of sophomore achievements. The ceremony opened with addresses by Class President Sal Bigay and Class Vice President Kristina Harrold. A performance by a cappella group Miss Connduct followed, which included John Legend's "If You're Out There."
April 30, 2014 | The Experience, Marina Stuart '16

Last week, the East Asian studies students hosted a poster session -- where students share their research and answer questions about their work. I went to support a friend, to cover the event for The College Voice and, in large part, because of my own personal interest in studying abroad.
Two East Asian studies classes presented posters about their spring break trips to Okinawa and Taiwan, respectively. While in Asia, each student conducted an individual research project.
As I wandered around the room, notebook in one hand and sushi in the other, I asked students about their experiences. I was struck with how much these students were impacted by their trips abroad. When I asked a friend what her favorite part of the trip was, she responded with, "Can I say the most profound part?" She went on to describe the moment she met a survivor of the Battle of Okinawan who worked as nurse in caves that were constantly being bombarded by bombs and gunfire.
These stories make me even more excited about my own study abroad plans for next fall. The stories also remind me that opportunities like spring break trips allow students who might not spend a whole semester abroad to experience life-changing opportunities around the world.
April 29, 2014 | The Experience, Calli Reynolds '17

Sometimes it is easy to forget what life was like before college. Once you're acclimated to college life and get a schedule going, the past is a distant memory.
The past few weeks have been full of tours and overnight visits for both accepted and prospective students. Having spent this spring hosting some of these overnight visitors, I've been reminded of what life felt like for me just a few years ago, as senior in high school. I remember the stress of high school report cards and college applications like it was yesterday.
With all these flashbacks come memories of the many people who helped me along the way. Friends who were already in college gave me advice about ways to improve my essays and relax for interviews. My college counselor, teachers and family members made sure I handed everything in on time and wrote my recommendations.
To be honest, after it all ends, you forget about the stress you felt. You only remember the excitement and relief of it all. You remember how happy you were to finally be done with the essays, tests, and applications. You remember senior spring because you were finally free and just waiting for responses.
The most important memory from last year is the day I chose to attend Conn. In that moment, all my hard work had finally paid off.
These past few weeks have been a very nostalgic time. While I wouldn't choose to do the process over, it certainly feels good to remember those days. To the Class of 2018 who will be on campus next year, congratulations!
April 28, 2014 | The Experience, Matteo Mobilio '16

As an arts editor for The College Voice, our campus newspaper, I work closely with both my writers and my fellow editors. The Voice is a resource for students on campus to vocalize their opinions from everything from a favorite event or concert to more serious concerns. I sat down with other staff members to see what advice they would share with incoming students.
<< < 1 2 3 4 5 6 7 8 9 10 11 12 13 14 15 16 17 18 19 20 21 22 23 24 25 26 27 28 > >>