March 27, 2015 | The Experience, Rebecca Seidemann '18

Here at Conn, there are a lot of resources that students can use to find out about the goings-on both around campus and the New London area. I often scan our online calendar to see if anything interests me. I usually flick past the various sports events and briefly consider going to a yoga class, but then succumb to my laziness.
Last week, however, I saw a reflexology event. I'd never heard of "reflexology," so I did some googling, and decided to take a chance and email the director of the program, Rebecca Posner of Master Healing Reflexology. She was very nice, and responded with a long email explaining that reflexology is a technique that uses pressure points (usually in the feet, sometimes in the ears or hands) therapeutically.
I was fully aware of the fact that, were I not in college, I would never seek a reflexologist. It's just something that wouldn't cross my mind and, if it did, I wouldn't act on the thought. This is what made me want to try it all the more. Since starting school, I've tried to be a lot more open to new experiences so that I can really get the most out of my affiliation with the College (and, I guess, my youth, as well). I've also been trying to learn as much as I can, in and out of class. Given all this, I decided to give reflexology a try.
I went to my appointment, excited to experience something new. I learned a lot about the practice, which was really intriguing. The appointment was also interesting because not only do Rebecca and I share the same name, we also share an interest in psychology. She majored in psychology in college, used to be a psychotherapist, and worked with art therapy. Eventually, she found a niche in aromatherapy and reflexology. As someone just getting started in the field, it was cool to hear from a psychologist who tested out different practices out until she found the one she loves. I went to learn about reflexology, and I ended up learning even more than I thought I would.
I'm glad I went out of my comfort zone to do this. I think that trying to absorb as much as you can in college is important, so I'll definitely continue to keep an eye out for unusual events. I mean, after all, it's these unusual experiences that I'll be looking back on after I graduate.
This week the College's calendar told me about an introductory class to maple syrup making. Next adventure? I think so.
March 26, 2015 | The Experience, Kirsten Forrester '17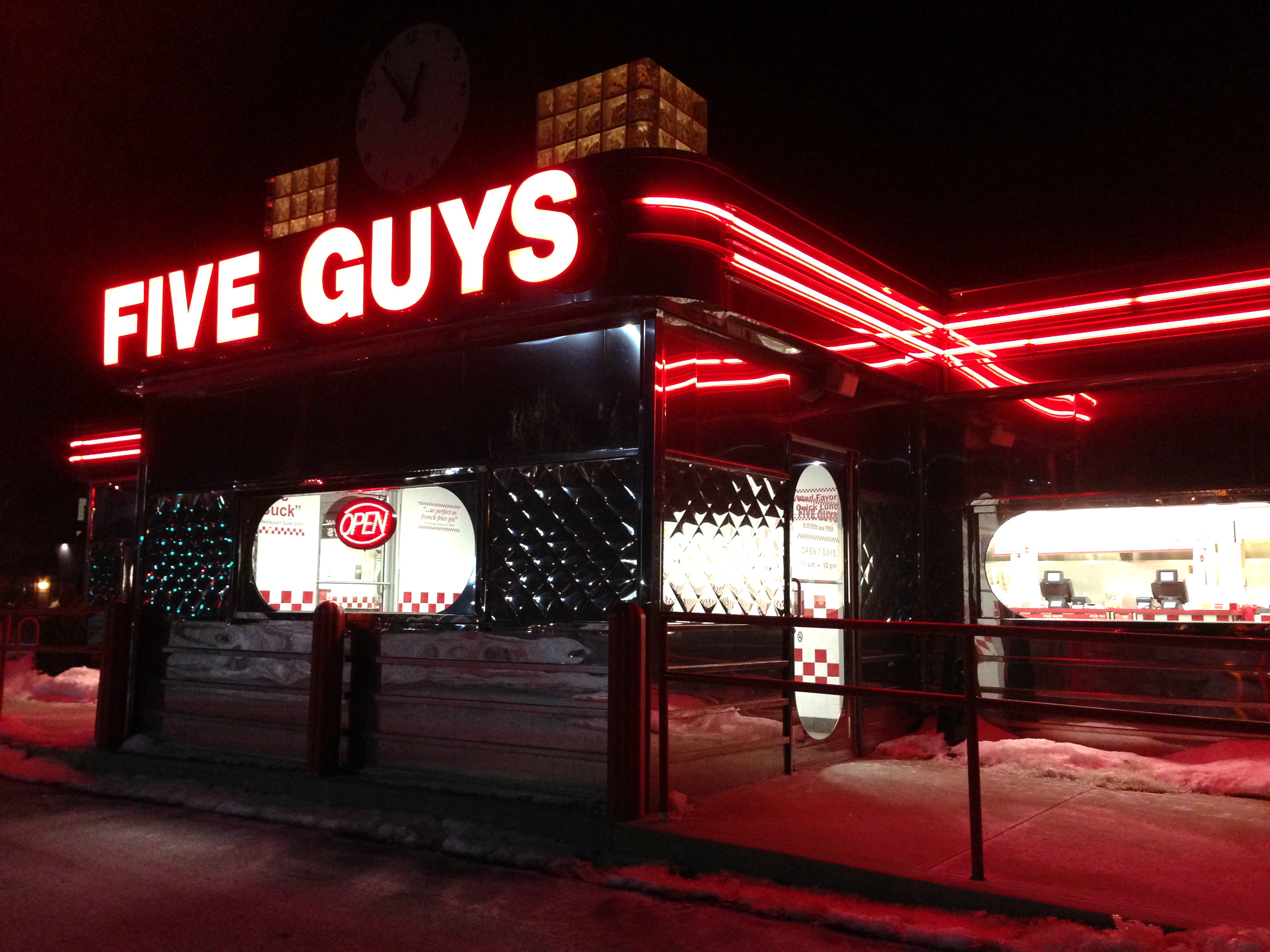 What's one of the best things about having your three best friends live in the same hallway? Impromptu outings, which in our case are mostly food-related. One moment we'll be studying in the common room, and the next we'll be in a 24-hour diner satisfying a craving for chocolate chip pancakes.
All it takes is someone saying, "You know what would be really good right now?" Most recently, we headed to Five Guys, located only minutes away in Groton, to fulfill a hankering for French fries. It's on these nights that we have the best, albeit odd, conversations. Whether it's the lack of sleep or the consumption of high-calorie foods, I'm not sure, but we'll somehow manage to discuss the strangest things, from llamas wearing hats to the proper pronunciation of Reese's Peanut Butter Cups. These trips are some of my best memories at Conn.
March 26, 2015 | The Experience, Kirsten Forrester '17

My old go-to study spot is back, and it's all shiny and new.
"No Pain, No Shain," was the slogan we heard all year during our library's renovations, and while there were certain times when I truly, dearly missed the library, the $9 million dollar project was completed five months ahead of schedule and we now have a spiffy new study space for the last two months of school. The interior was best described to me by one student as "how the future was imagined in the '70s." It's true; there is an interesting balance between modern and retro design. Given the original '70s architecture of the building, I think it works. There are a number of new study spaces on all four floors. Every nook and cranny is filled with new comfy chairs and desks, a nice touch considering how packed the library becomes during midterms and finals.
What I'm most excited about is the light. There's so much of it! Old Shain, with its tiny windows, was dark. New Shain, on the other hand, has much larger windows, making for much happier studying as the light pours in and brightens up the space.
March 25, 2015 | The Experience, Oliver Ames '17

Fort Trumbull State Park is a slice of New London's history, but also more than that. It is a vista of tranquility for the tired college student in search of something different. Built between 1839 and 1852, Fort Trumbull is one of 42 forts designed to defend the coast of the United Sates at strategic harbors like New London, where the Thames River meets the Long Island Sound. Fort Trumbull was the first strategic military position in an area now home to one of the last remaining submarine bases in the continental United States. For students like myself who attend the three colleges in New London, it provides a welcome break from academic life.
I go to Fort Trumbull frequently. Two weekends ago, during the long hours of Saturday night, I rounded up four of my closest friends and we drove to the park to admire the harbor views after sunset. At night, the lights from nearby Electric Boat headquarters fill the harbor and, if you're lucky, a train might pass by with its horn blasting. Looking out to Long Island Sound, the lights of Avery Point and the New London Ledge Light House offer navigational beacons to passing boats or the college student trying to point out constellations in the sky.
There are lots of places to go to get away from the hustle and bustle of college life, but none is quite like Fort Trumbull. New London is a busy place and the fort offers a serene place to watch it all unfold.
March 18, 2015 | The Experience, Oliver Ames '17

"As Told By Vaginas" is, without a doubt, going to spark serious conversations about how women are treated. Following the success of "The Vagina Monologues," the new show compiled a series of different stories from across the Connecticut College spectrum and presented them for $8 dollars to anyone who wanted to listen. Boy, did people listen.
I'm a floor governor in Branford House and I attended the show with all the residents from my floor, who are all first-year students. I wasn't sure what the show would be like, and I could never have predicted the reactions I saw from my residents. Halfway through the show, right after one of the most intense monologues, I looked down the row of my residents and saw some ashen faces. The women in the row were happy their stories were being told but the men were stunned. One turned to me and said, "This makes me ashamed to be a man."
At first I was taken aback by his statement, and because the show was about to begin again, I couldn't attempt to unpack it any further. Later, as the floor walked back to Branford House in silence, I decided to try and spark debate and asked my resident what he had meant. As he began to explain, I started seeing his way of thinking. "As Told By Vaginas" shared some terrible experiences women have had with men, and what he had clued into was feeling ashamed that many men treat many women poorly. Don't get me wrong — most men treat women well, but if one man treats one woman badly, we've got a problem.
The conversation continued and my residents stuck around. The rest of the night evolved into a conversation on masculinity, our role as men in the world, and what we can do to help change the definition of masculinity. We talked about the "Man Box," a term defined by Tony Porter in his TED Talk, "A Call To Men." We talked about how men are afraid to show emotion because they've been socialized that way. We talked about how many men see women as objects, because that is how they are told to behave around women. "Man up! Boys will be boys. Stop crying, son. Go over their until you are ready to talk to me like a man." These are all phrases men are told to live by as they grow up that lead to the violent and dangerous behavior they exhibit towards women.
By the end of the night, my resident was still upset by seeing the effect men can have on women. But after engaging all the residents of our floor in the discussion, he had come to the realization that he could make change by changing the way he thinks about masculinity and femininity. Being a man should mean being sensitive, hugging it out when necessary, being friends to women, and standing up for both men's and women's rights.
I had never dreamed that this kind of conversation would rise from "As Told By Vaginas," but because these stories were from Connecticut College women and told on stage to members of the College community, the stories felt relevant. I know that I'm a better man for seeing the show and so are my residents.
March 16, 2015 | The Experience, Allison Mitobe '17

I was washing dishes in a bathroom in Harkness House when suddenly, an excited, warm and welcoming voice greeted me. Most people who enter the bathroom are so consumed with their lives that they tend not to acknowledge other people's presence. It's a bathroom, after all. Granted, I was surprised when this student greeted me and initiated conversation. She said, "Nice teapot!"
I replied, "Huh?" Then I realized she was referring to the teapot I was washing. I smiled, "Thanks." She said her name was Christine and we exchanged basic information about our class years and majors. I added that I was a transfer student. Christine's energy shifted up a level and she excitedly revealed that she was also a transfer student from a couple of years ago. Her transfer story paralleled mine. She was from the west (Idaho) just like I am (California). She went to school in Oregon and so did I. We compared the two coasts and shared notes on the cultural similarities and differences. Most importantly, we both agreed that we made the right decision to come to Conn.
Christine told me that going through the transfer experience had influenced her to become a transfer adviser. She was so passionate about helping transfers adjust to the College that she decided to arrange a dinner for the transfer students so that fall semester transfers could meet spring semester transfers. She quickly asked me if I wanted to help plan the event. How could I say no to her? I couldn't and I didn't.
A few other transfers helped plan the event with Christine, as well. The other transfers, Lilly and Victoria, were her advisees from last fall. We sat at Ruane's Den contemplating, planning and making decisions.
The transfer event turned out well. I got to meet other transfers and everyone was warm, open and friendly. People talked and bonded over delicious food. (The cheesecake was to die for; it was absolute heaven.) It was a joy to watch an event that I helped plan unfold before my eyes.
I am truly grateful for the event mainly because it gave me an opportunity to become friends with Christine. She unintentionally helped define for me what it means to be a Conn student: Someone who is inclusive and friendly.
March 15, 2015 | The Experience, Marina Stuart '16

Everyone always says it is easy to find live music and productions on a college campus; you just have to look for them.
One recent weekend, however, I didn't even have to look — they were staring me right in the face, so I indulged myself and took advantage of them.
In just three days, I saw a modern dance performance, which also included tap dancing and a pretty amazing dance to "All I Want for Christmas is You." I attended Burning Camel and saw many student bands perform across campus. Finally, I was a guest at "James Joyce is Dead and so is Paris, the Lucia Joyce Cabaret."
As most know, I am a huge supporter of the dance community at Connecticut College — I lived with a student dancer for a year — so I am a usual show-goer at the Myers Dance Studio, but I don't remember a show being as impactful as this one. Additionally, I got to see my friends dance and see the dances that my friends choreographed — it was amazing to see their work come to life.
My attendance at Burning Camel was half support, half convenience. A friend of mine was playing in the show, but it was also taking place in Coffee Grounds, a café in my dorm, Katharine Blunt House. So I was able to listen comfortably to the musicians while lounging in my slippers and doing work at the same time.
My reason for going to "James Joyce is Dead and so is Paris, the Lucia Joyce Cabaret" was in support of a friend who was the stage manager, and another friend who was preforming. Upon entering the theater, I confronted with a most unusual scene and a most unusual performance: A group of institutionalized people, led by the amazing character of Lucia Joyce, on put on a memorable and slightly scary cabaret show.
It's slightly overwhelming to be surrounded by so many talented students, but I love that fact that I can get so many different genres of art simply by living on a college campus.
March 13, 2015 | The Experience, Mike Wipper '17

The Think S.A.F.E. Program hosted its own version of "The Newlywed Game," pitting roommates, friends and couples against one another to see how well they really know each other.
While the overall message was fun, it also celebrated healthy relationships in all forms and continued Green Dot's efforts of sexual violence prevention. Green Dot is an organization that has become one of the most popular and beloved groups on campus. Built on the goal of fostering bystander action through education and the ever-popular training sessions, the organization has become a powerhouse in organizing events like Green Dot Week.
"So You Think You Know Me?" drew a huge crowd and I enjoyed playing as much as I enjoyed seeing other people's answers and responses. My favorite moment was when two roommates were asked, "What is your roommate's pet peeve?" Each correctly responded: people. It goes without saying that when they flipped the boards over and showed each other what they had written, laughter erupted.
March 11, 2015 | The Experience, Rebecca Seidemann '18

College is weird sometimes.
One recent evening, I was walking with my friend Emma when someone just started walking next to us, ranting about how awful his day was. People here are pretty friendly and open to talking. Emma and I were a little bamboozled, but we listened to his complaints and occasionally commented on them. When he finished his rant, he apologized, saying that he just really had to get it all off his chest. He walked away, leaving me and Emma a little confused, but amused.
Later that night, Emma and I went to the student center and saw the student there. I had one of those should-I-or-shouldn't-I moments before deciding to ask him how the rest of his night went. The student, Drew, was sitting with his friend Dougie. They invited us to sit and, before we knew it, hours had passed.
We eventually split ways, but before we did, we all exchanged numbers. A few days later, we made dinner plans, which led to us sitting at a table in Harris for hours discussing the creation of the universe, the idea of free will, reincarnation, etc.
A few days ago, Emma and I didn't know Drew or Dougie, and now we're friends (who discuss really deep philosophical things over cheeseburgers) because we happened to be walking by when Drew needed to rant. These types of things wouldn't be possible in a larger school. In a class of 10,000, you don't just run into someone a couple of times in a night and then decide to be friends. I don't think that phenomenon really exists in the adult world, either.
Being ranted to by a stranger is an unusual way to make new friends, but if I'm being honest, I don't think I've made any of my friends here in a "normal" way. It's one of those charming, weird things about being in a small college.
March 9, 2015 | The Experience, Allison Mitobe '17

Recently, I went to a discussion called "Slacktivism vs. Activism," which explored these two different forms of advocacy. It was an open discussion in which people talked about how they personally advocate and whether they advocate through means of slacktivism, activism or both.
I'd never heard of the term "slacktivism" until I attended the meeting and, like most people, I associated the word with a negative connotation, thinking it was a passive and lazy form of activism. (Slacktivism often entails hashtagging a post on social media to demonstrate support for a cause, signing an online petition or similar virtual efforts.) The public has a tendency to see slacktivism as disparaging. Even though a hashtag or a post will not directly change the cause people are supporting, these actions bring attention to the public through social media. As social media is often how people receive news, interact with one another and learn about social issues, Slacktivism, despite the negative connotations in its name, can help social movements to be accessible to anyone who participates in social media.
When it comes to activism, people tend to have more reverence towards physically campaigning for political change. However, it begs the question: Why does it have to be either/or? Can't a person do both? The answer: Yes! People can push for change in both active and passive ways and you don't have to place yourself in one category, but instead right in the middle of the Venn diagram.
As the event ended, we discussed that physical activism is a time-consuming commitment. I believe slacktivism should not be written off as bad and lazy, but instead should be viewed as another form of activism. If anything, slacktivism tailors activism to keep up with the times and keep up with the trends of social media. If it weren't for social media, activism would not be as trendy as it is now. How you choose to advocate is not as important compared to the results, and slacktivism has positively impacted advocacy.
<< < 1 2 3 4 5 6 7 8 9 10 11 12 13 14 15 16 17 18 19 20 21 22 23 24 25 26 27 28 29 > >>